Annual Northeast Boys Lacrosse Prospect Camp
Position Availability Update
The Goalie and LSM positions are SOLD OUT - those unable to obtain a spot at either of these positions may still register to be placed on the Wait List. There are minimal spots available for all other positions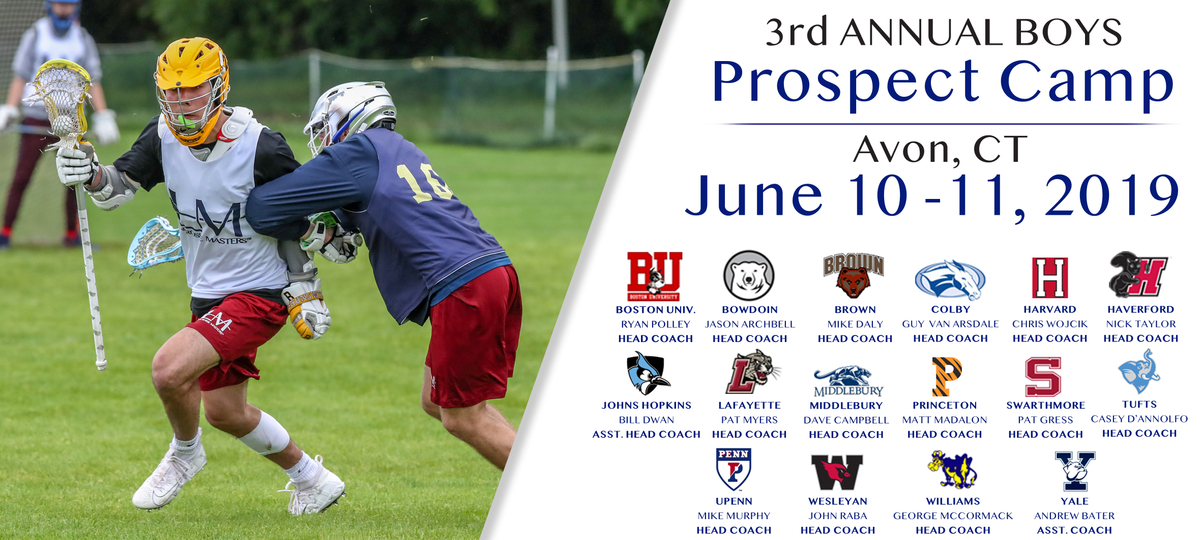 The Ultimate Lacrosse Experience
The Lacrosse Master's annual Northeast Summer Prospect Camp is unlike any camp in the country. Sixteen coaches (14 HEAD coaches, 1 Associate Head Coach & 1 Assistant Coach) from some of the world's finest academic institutions will be on staff for the duration of the camp. The make-up of our World-Class staff and the institutions they represent is unprecedented. All Lacrosse Masters camps are headlined by coaches from both top lacrosse programs and the best academic institutions in the world. Our camp is designed to provide every participant with the best instruction and Guaranteed Exposure to many of the nation's most well respected NCAA Division I & III lacrosse coaches from the world's best academic institutions.
This is a MUST ATTEND camp for any player interested in playing at any of these schools. Each participate will be coached and seen by every coach on staff - guaranteed. You will not find this level of exposure and instruction at any camp or tournament.
This Prospect Camp is open to ANY and ALL players in the 2020, 2021, 2022 and 2023 graduation years.
Ryan Polley - Head Coach, Boston University
AWARDS
• 2017 Patriot League Coach of the Year
• 2017 New England Division I Coach of the Year
Ryan Polley was named the inaugural head men's lacrosse coach at Boston University on June 21, 2012, and the program has continued to reach new heights in his five seasons at the helm.
In 2018, Polley led the Terriers to their second straight Patriot League semifinal appearance. To get there, Polley guided BU to the program's first-ever victory over a top-10 opponent with a thrilling 12-11 victory at No. 10 Bucknell in the Patriot League quarterfinals. The Terriers also earned their first-ever preseason ranking in a national poll prior to the 2018 campaign.
Polley was named the 2017 Patriot League Coach of the Year after leading the Terriers to their first-ever Patriot League tournament berth. BU finished the regular season with a top-15 defense nationally and was ranked or received votes in at least one major national poll each week, rising as high as 15th in the Inside Lacrosse media poll. Polley was also recognized as the New England Divsion I Coach of the Year.
Polley had previously spent six seasons (2006-12) as an assistant coach at Yale University, heading up the defense for the final four. In 2012, he helped the Bulldogs claim the Ivy League tournament title with convincing wins over perennial powers Cornell and Princeton, earning the program's first NCAA bid since 1992 in the process. Yale finished the year ranked 11th in the final USILA Division I poll.
Prior to his time at Yale, Polley was the head coach at Merrimack College - his alma mater - for three seasons (2004-06). He capped his tenure with the Warriors by being named the New England Division II Coach of the Year for the second time in three years after his squad finished with a record of 11-5 and a national ranking of eighth at season's end.
Polley graduated magna cum laude from Merrimack in 1999 with a bachelor's in business administration.

Mike Daly - Head Coach, Brown University
Mike Daly, who guided the Tufts University men's lacrosse program to three NCAA National Championship titles while boasting the nation's highest scoring offense, has been named the head men's lacrosse coach at Brown University in an announcement made by Bears' Director of Athletics Jack Hayes on July 1, 2016.
Daly posted a record of 244-83 in 18 seasons as head coach at Tufts, with nine NCAA Tournament appearances and seven NESCAC titles. His Tufts teams won national championships in 2010, 2014 and 2015.
Tufts led the nation in scoring last spring with 402 goals in 23 games for a 17.48 per game average. The Jumbos won their seventh consecutive NESCAC title and finished the year with a 20-3 record, falling in the national championship game. Daly's senior co-captain John Uppgren was named the USILA Co-Player of the Year and Most Outstanding Attackman.
Daly is among the top 10 active coaches for winning percentage and is in the top 20 for victories. Among all-time DIII coaches, he is in the top 10 for winning percentage and top 30 for wins.
A two time USILA F. Morris Touchstone National Coach of the Year (2010 and 2014), Daly's teams have won 20 or more games four times and made five appearances in the national championship game. Daly oversaw a prolific Tufts offense that scored 423 goals in 2014 to set an NCAA record for a single season for all divisions.
A 1995 Tufts graduate, Daly was a two-sport athlete for the Jumbos, and received a Masters in Education from Tufts in 1997. He and his wife Norah, have a daughter, Fiona, and son, Liam.

Chris Wojcik - Head Coach, Harvard University
Chris Wojcik '96 has returned Harvard to the national stage in his seven years as the Frisbie Family Head Coach for Harvard Men's Lacrosse.
Harvard reached the title game of the Ivy League Tournament in 2016 after knocking off top-seeded and second-ranked Brown in the semifinal, 13-12. That victory was one of three for the Crimson over a nationally ranked opponent, with Harvard also defeating then No. 4 Duke, 14-9, and then No. 20 Villanova, 13-12. The win over the Wildcats came in the season opener in overtime as the Crimson became just the second team in NCAA history to win three-consecutive games in overtime. At the conclusion of the year Bobby Duvnjak (third team), Devin Dwyer (third team), and Joe Lang (honorable mention) were named to the USILA All-America teams, with a total of six individuals garnering All-Ivy League honors.
In 2014 the Crimson did what no other team had done in 24 years, winning the program's first Ivy League championship since 1990 with a 5-1 conference record. By virtue of its regular season title, the Crimson earned the right to host the Ivy League Tournament at Harvard Stadium, where it advanced to the tournament final for the second time in program history. The feat helped earn Harvard an at-large berth to the NCAA tournament, its first since 2006 and sixth overall, while elevating the Crimson to a ranking of 11th in the nation. Harvard finished the year off with a 10-7 overall record, an impressive 7-1 mark in Cambridge, four wins over ranked opponents, and seven selections to the All-Ivy League teams, the second most in program history. Additionally, Devin Dwyer and Bobby Duvnjak garnered USILA All-America honorable mention honors, and Wojcik was tabbed as the New England Intercollegiate Lacrosse Association Coach of the Year.
In addition to his honors on the lacrosse field, Wojcik served as captain of the Harvard soccer team, earning two All-Ivy League honors and leading the team to an Ivy League title and an NCAA tournament appearance in the fall of 1994. Prior to graduation, Wojcik was named the winner of Harvard's Bingham Award, presented to the top male student-athlete in the senior class.
Wojcik and his wife, Kathryn, have two children, Jack and Clare.
Bill Dwan - Associate Head Coach, Johns Hopkins University
Bill Dwan is entering his 19th season as a member of Dave Pietramala's coaching staff, including his 13th as Associate Head Coach.
A 1991 Johns Hopkins graduate, Dwan assists Pietramala with the Johns Hopkins defense and works closely with the team's faceoff specialists and all game-planning. He also oversees the scout team defense and coordinates the team's extensive video scouting and recruiting efforts.
Dwan has been an integral part of the program since his arrival in 2001. He has helped guide the Blue Jays to a 177-69 record, 15 trips to the NCAA Tournament, a pair of national championships and two other appearances in the national championship game. Since his arrival, Johns Hopkins defensemen have earned All-America honors a total of 23 times. In addition, Tucker Durkin '13 and Michael Evans '09 earned the William C. Schmeisser Award, which is presented annually to the nation's top defenseman.
Dwan served as an assistant coach at Loyola College in 1992 and 1995, helping the Greyhounds to a pair of trips to the NCAA Tournament.
A standout defenseman during his career from 1988-91, Dwan was a three-time All-American at Johns Hopkins. He garnered Honorable Mention All-America honors as a sophomore and junior before earning Third Team All-America status as a senior. Dwan helped the Blue Jays to four appearances in the NCAA Tournament, including a trip to the NCAA Championship game in 1989.
Dwan served as a team captain in 1991, when he was the recipient of the Fred Smith Trophy, which is awarded to the player on the Johns Hopkins team who demonstrates outstanding loyalty and dedication. As a junior, he earned the W. Taylor Cook Award for outstanding character and attitude.
Dwan and his wife, Pam, reside in Lutherville with their 15-year-old daughter, Grace, 13-year-old son, Billy, 11-year old daughter, Meghan, and nine-year old daughter, Heidi.

Pat Myers - Head Coach, Lafayette College
Patrick Myers begins his first season as the Head Coach of the Lafayette men's lacrosse program.
Myers spent the last four seasons as the Associate Head Coach at Penn. During his time in Philadelphia, Myers served as the offensive coordinator and recruiting coordinator. He helped oversee a Quaker program with six All-Ivy league selections (two each in 2015, 2016 and 2017) and an Ivy League Rookie of the Year (Simon Mathias in 2016) laurel during his time. In 2018, Penn beat No. 1-ranked Duke for the first time in school history and made its third straight appearance in the Ivy League Tournament. In 2016, Myers worked as an assistant coach with the United States Under-19 team for the 2016 FIL U-19 World Cup in Canada.
Prior to joining the Penn staff, Myers served as an assistant at North Carolina from 2009-14. While there, the Tar Heels posted a 69-30 overall record and qualified for the NCAA Tournament each season, including quarterfinal appearances in 2010 and 2013. North Carolina claimed the ACC title in 2013, the program's first championship in 17 years, earning Myers a promotion to the Associate Head Coach role for the 2014 season. UNC held the No. 1 ranking in three different polls at the end of the 2013 campaign, the school's first top billing in two decades.
Myers graduated from Ohio State in 2003. He was the GWLL Rookie of the Year in 2000, a two-time All-GWLL selection and a three-time Academic All-Big Ten honoree. Following graduation, he played professionally for four seasons with the Boston Cannons of Major League Lacrosse.
A native of Kennebunk, Maine, Myers and his wife, Lauren, have two daughters, Ava (6) and Mackenzie (3).

Mike Murphy - Head Coach, University of Pennsylvania
Mike Murphy was hired in July 2009 and has spent the last nine years as head coach of the Penn men's lacrosse program.
Murphy's tenure has coincided with an upswing in the program's fortunes. Penn has made a pair of NCAA Championship appearances under Murphy, in 2011 and 2014, and hosted its 2014 first-round game with Drexel which was the Quakers' first NCAA home game since 1988. Penn was the fourth seed in the 2014 NCAA Championship, its highest seed since the 1988 semifinal team.
Murphy attended Duke University, where he was a three-year starter (one as a long stick middie, two at closed defense) for the nationally ranked Blue Devils and captain of the 1991 team. He graduated with a degree in history and political science. Murphy also holds a master's degree in higher education management from Penn, earned in May 2004.

Matt Madalon - Head Coach, Princeton University
Matt Madalon was named the head coach of the Princeton men's larosse team on June 15, 2016 after having spent more than two months as the interim head coach. Madalon coached the Tigers to a 3-2 record in the final five games of the 2016 season.
His first full season as head coach will be his fourth with the program. He has previously served as offensive coordinator and recruiting coordinator before becoming interim head coach.
During Madalon's time as interim head coach, the team saw its goals-against per game average drop by nearly 4.5 goals, from 13.25 to 8.80, despite playing two of the top 16 and three of the top 25 scoring offenses in Division I. The team save percentage went from .411 in the first eight games to .556 in the five for which he was interim head coach, and the team face-off winning percentage went from .433 prior to when he took over to .532 for the final five games.
Princeton averaged 12.0 goals per game in each of his first two seasons with the program. He also coached the program's single-season points leader (Mike MacDonald) and the program's highest scoring midfielder ever (Kip Orban) in the 2015 season.
He was honored by the IMLCA as the 2012 Division III Assistant Coach of the Year, and he also earned a master's degree in management from Stevens.
Madalon is married to the former Ashley Dubinskas, a 2007 Roanoke graduate with a master's from American who is a high school biology and immunology teacher.

Andrew Baxter - Assistant Coach, Yale University
Andrew Baxter, a collegiate men's lacrosse coach for the last 18 years, took over as Yale's defensive coordinator in 2013 and helped the Bulldogs win their first NCAA Championship last May.
Baxter, whose defenses have helped Yale win Ivy League Regular Season titles in 2017 and 2018, has coached teams to league tournament championships in four of the last six seasons. He has helped the Elis reach the national tournament five times. His 2018 defense, which ignited the Bulldogs to the national title run, led the league with an 8.80 scoring average.
He joined the Yale staff after four seasons as defensive coordinator and the top assistant at Ohio State. As a Buckeye, Baxter handled all aspects of recruiting while leading a defense that ranked fourth in 2012 and 10th in 2011 for scoring defense among Division I schools. He coached All-America players each season at Columbus.
A native of Rochester, N.Y., Baxter graduated from Brighton High School. He and his wife, the former Marika Hartog, also a Springfield College graduate, have a two children, Rae, born in 2010 and Frankie, born in 2014.

Jason Archbell - Head Coach, Bowdoin College
In June of 2012, Jason Archbell was named head coach of the Bowdoin men's lacrosse program. In 2016, Archbell led the Polar Bears to a 12-5 record and third overall seed in the NESCAC tournament. Archbell's squad had five players recognized as All-NESCAC selections, including Rookie of the Year, while being named Coach of the Year for the 2016 season.
Archbell spent the previous two seasons as an assistant at Penn, where he served as a defensive assistant and recruiting coordinator. The Quakers enjoyed one of their finest seasons in 2011, posting an 8-7 mark and reaching the NCAA Tournament for the first time since 2006. In 2012 Penn played one of the most difficult schedules in Division I and, despite a losing record, earned wins versus ranked North Carolina and Harvard.
He comes to Bowdoin with extensive Division III experience. A 2002 graduate of Hampden-Sydney, his coaching resume includes stops at Washington & Lee, Denison, Kenyon and Virginia Wesleyan.
Archbell played his college lacrosse at Hampden-Sydney College, captaining the squad his senior year. The Tigers made three NCAA Championship appearances and won the Old Dominion Athletic Conference (ODAC) once during his career. Archbell was a two-time All-ODAC defenseman and earned honorable mention All-America as a senior.

Guy Van Arsdale - Head Coach, Colby College
Guy Van Arsdale, a veteran coach and former NCAA Player of the Year, has been named head coach of the Colby College men's lacrosse program.
Most recently at Division 1 Jacksonville University, Van Arsdale has also been head coach at Colorado College and Rochester Institute of Technology (RIT) at the Division III level, and coached professionally with the Rochester Rattlers of Major League Lacrosse.
A member of a storied lacrosse family, Guy's father, William Van Arsdale, and his brother, Marc, also were inducted into the Hobart Athletics Hall of Fame. Hobart lacrosse has the Van Arsdale Award in honor of all three Van Arsdales for a lacrosse player whose scholarship, leadership, and determination have proved to be superior. Marc is a new assistant lacrosse coach and offensive coordinator at Loyola University Maryland after spending the past 15 years at University of Virginia.
Nick Taylor - Head Coach, Haverford College
Nick Taylor is entering his first season as head coach of the Haverford College men's lacrosse team in 2018. Taylor came to Haverford from Arcadia University where he spent the previous four seasons as head coach.
"We are excited to welcome Nick to the Haverford athletic community," said athletic director Wendy Smith '87. "His commitment not only to the team's on-field success but also the development of the whole student-athlete made him an ideal choice to lead the team as it strives to build on its recent success."
During his time at Arcadia, Taylor's teams climbed the MAC Commonwealth standings and tied the program's record for wins in a single season during the 2018 campaign. Four players earned All-MAC Commonwealth recognition under his guidance, while 48 student-athletes were named to the MAC Academic Honor Roll.
Prior to Arcadia, Taylor won two conference championships in as many seasons at Cabrini (2013-14) as the team's the top assistant coach and recruiting coordinator. He coached 14 United States Intercollegiate Lacrosse Association (USILA) All-Americans, including the 2014 Division III Player of the Year. Cabrini was ranked as high as No. 2 in the nation during his tenure as the 2014 team went 17-2 overall and advanced to the second round of the NCAA Division III Championship Tournament for the second consecutive season.
Taylor got his start in college coaching as the top assistant at Catholic University, where he served as the defensive coordinator and recruiting coordinator from 2009-12. The Cardinals went 39-22 during his four seasons and qualified for the Landmark Conference Tournament during his final three seasons, including a berth in the 2010 Landmark Conference Championship game. Taylor mentored two USILA All-Americans, including the 2010 Landmark Conference Player of the Year. The Cardinals also had the 2012 Landmark and Eastern College Athletic Conference (ECAC) Rookie of the Year.

Dave Campbell - Head Coach, Middlebury College
Campbell enters his 13th season as head coach of the men's lacrosse program at Middlebury. In his first five seasons, he continued the post-season tradition, leading the team to its 14th-consecutive (15th overall) trip to the NCAA Tournament in 2011. The team captured the 2007 NESCAC title and earned the tournament's top seed in 2013. Campbell owns a career record of 115-57 through his first 10 seasons.
Prior to his three seasons with the Camels, Campbell served as an assistant coach at Notre Dame for two seasons. During his stint in South Bend, he helped the Irish become one of the top-10 defensive teams in Division I lacrosse. The squad finished the 2002 and 2003 seasons as co-champions of the Great Western Lacrosse League. His duties included recruiting coordination and working with the goalkeepers.
A 2000 graduate of Middlebury, Campbell enjoyed tremendous success with the Panther program as a player and later as an assistant coach. His teams went 52-10 while he was a player, winning the ECAC Championship during his rookie season. The team appeared in the NCAA Tournament his sophomore year and advanced to the title game his junior year, before winning its first-ever NCAA Championship when he was a senior. Campbell returned to Middlebury in 2001 as an assistant coach, helping guide the team to its second-consecutive NCAA crown.

Pat Gress - Head Coach, Swarthmore College
The 2018 season marks Pat Gress's 23rd year as the men's lacrosse coach at Swarthmore. Gress, a 1991 graduate of Towson University, has had four teams (2000, 2003, 2008, 2016) selected to compete in the ECAC Tournament.
In 2016, Gress led Swarthmore to its first-ever appearance in the Centennial Conference tournament and was named the league's Coach of the Year for his efforts. That season, the Garnet also claimed the ECAC title and finished 12-6 overall. In 2017, Swarthmore earned another berth to the conference tournament after winning its final three Centennial games, including two in overtime.
At Towson, Gress was a history and secondary education major, four-year varsity letterman, and winner of the James Saxon Memorial Award for Outstanding Leadership. Upon graduation, he assisted North Harford High School in Harford County, MD, from 1991 to 1993. From there, Gress assisted Franklin & Marshall College for two years, helping the team reach the NCAA Tournament in 1995.
Gress received a master's degree in administration from West Chester University in 2000. He also teaches physical education classes.
Gress has chaired the Centennial Conference Men's Lacrosse Committee (2005-11), served on the All American Committee (2005-08), coached the 2003 North-South Senior All Star Game and served on the Regional Advisory Committee for NCAA Tournament Selection.

Casey D'Annolfo - Head Coach, Tufts University
Casey D'Annolfo, who revitalized the men's lacrosse program at the Taft School during nine seasons as head coach, has been named as the new leader of the Tufts University men's lacrosse program.
A 2006 Tufts graduate, D'Annolfo replaces Mike Daly as the Jumbos' head coach. Daly left to become the head coach at Division I Brown University in July.
"I couldn't be more excited to return to Tufts University, my alma mater, in order to continue the great lacrosse tradition that has been established," D'Annolfo said. "The bar has been set very high by the alums, and I look forward to getting to work with this group of young men in order to create an equally impressive legacy. I am excited to re-immerse myself in the Tufts community that taught me so much and both reinvigorate relationships that I cherish to this day as well as make many new ones. I can't thank John Morris enough for giving me this opportunity."
D'Annolfo was a three-sport letterman in football, lacrosse, and basketball at Tufts from 2002-06. He played quarterback for the Jumbos and was a four-year contributor in lacrosse. He is as the only athlete in Jumbo history to throw a touchdown pass in football, score a goal in lacrosse, and make a field goal in basketball during his Tufts career.

John Raba - Head Coach, Wesleyan University
John Raba enters his 23rd season as head coach of men's lacrosse in 2019. Coach Raba lead his Wesleyan squad to the 2018 NCAA Division III National Championship with a great win over Salisbury University. Raba was named NESCAC and NEILA Division III Coach of the Year in 2006. He earned his fifth NEILA Coach of the Year award following a 15-4 season in 2009 as his Cardinals captured the NESCAC tournament title for the first time and qualified for the NCAAs for the fourth time in a five-year span. He was named Co-Coach of the Year by the NEILA in 2005 after his squad posted a 13-6 overall mark, reached the NESCAC finals and received its first-ever bid to the NCAA Division III tournament, making it to the quarterfinals. Both his 2000 and 2001 squads reached the ECAC New England Division III title game. After posting a 14-4 mark and reaching the NESCAC Championship game in 2004, he received NEILA Coach of the Year laurels as well.
His teams have won seven outright Little Three crowns, and shared five others over the last 15 years, all of them .500 or better seasons. Raba recently completed his third year of a three-year term on the USILA All-American Committee in 2012-13, after serving his first three-year term with the committee beginning in 2009. He also is a regional representative on the NCAA men's lacrosse advisory selection committee.
A 1993 graduate of the University of New Haven, Raba was an All-American lacrosse player for the Chargers as a grad student in 1994 after leading Division II in scoring as a senior in 1993. Also outstanding on the gridiron, Raba was a team captain, a two-time all-New England pick as a fullback and earned team MVP honors as well. He was honored by UNH as its male athlete of the year in both 1991-92 and 1992-93. He was inducted into the UNH Athletics Hall of Fame in 2010.

George McCormack - Head Coach, Williams College
George McCormack was named head lacrosse coach of the Ephs in 2003. In the time since his appointment coach McCormack has achieved some great milestones for the program:
1st ever NESCAC Lacrosse Championship
1st ever NCAA tournament appearance
3 Thomsen Trophies
4 Little Three Championships
11 All-Americans
26 All-Conference Players
2-Time NESCAC Coach of the Year
NEILA Lacrosse Coach of the Year
Prior to coming to Williams, McCormack coached at Union College, Norwich University, Boston College, Ithaca College and in N.S.W. Australia. While at Union, McCormack was named the 1999 Liberty League Lacrosse Coach of the Year.
McCormack received his Bachelor of Science Degree from Ithaca College in 1987 and his Master of Education Degree from Boston University in 2007. While at Ithaca he played both lacrosse and football and in his senior year played for the football National Championship in the Amos Alonzo Stagg Bowl.
Coach McCormack and his wife Kristen live in Williamstown with their three sons Brett, Michael and Sean.
For the third year in a row, we have selected the Avon Old Farms Hotel and Simsbury Inn as the official camp hotels.
Both are exceptional choices, as they are within a 5 mile drive to the fields and are conveniently located near a variety of top restaurants.
Furthermore, the Lacrosse Masters group rates are between 15 - 40% off their normal rates.
To Book The Simsbury Inn:
Regular rate - $199; Lacrosse Masters rate: $149
Call the hotel directly at 860-651-5700 - REFERENCE Lacrosse Masters or Group #20025 to obtain the discounted group rate.
To book on-line, click HERE
To book the Avon Old Farms Hotel:
Regular rate - $159-$199; Lacrosse Masters rate: $149-$169
Call the hotel directly at 860-677-1651 - REFERENCE Lacrosse Masters or Group #23466 to obtain the discounted group rate.