6th Annual Girls Winter Lacrosse Prospect Camp
Position Availability Update
Camp is 100% SOLD OUT
Those who were unable to obtain a spot on the roster may still register to be placed on the Wait List.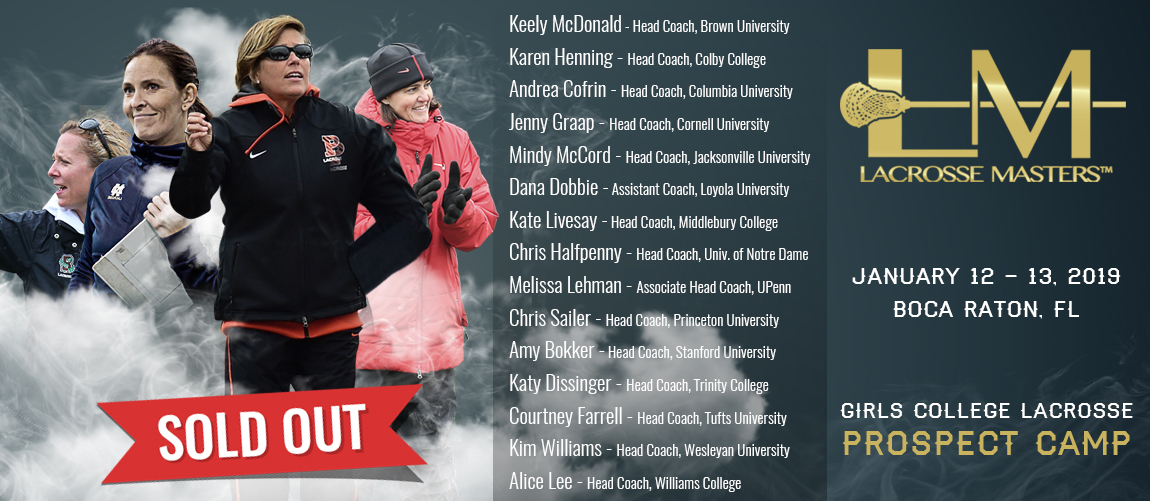 The Ultimate Lacrosse Experience
The Lacrosse Master's 6th Annual Florida Prospect Camp is unlike any camp in the country. 13 HEAD coaches, 1 Associate Head Coach and 1 Assistant Coach from some of the world's finest academic institutions will be on staff for the duration of the camp. The make-up of our World-Class staff and the institutions they represent is unprecedented. Nowhere will you find a camp staffed by this caliber of coaches from both top lacrosse programs and the best academic institutions in the world. Our camp is designed to provide every participant with the best instruction and Guaranteed Exposure to many of the nation's most well respected NCAA Division I & III lacrosse coaches from the world's best academic institutions.
This is a MUST ATTEND camp for any player interested in playing at any of these schools. Each participate will be coached and seen by every coach on staff - guaranteed. You will not find this level of exposure and instruction at any camp or tournament.
Camp is open to those players in the 2020, 2021 and 2022 graduation years.
2018 Lacrosse Masters Annual Winter Camp Highlights

Keely McDonald - Head Coach, Brown University
A 2000 Brown University graduate and former Bears' lacrosse standout, Keely McDonald returned to her alma mater to head the Brown women's lacrosse program during the fall of 2004 following assistant coaching stints at Princeton and Northwestern.
In 12 years, McDonald has coached 12 Regional All-Americans and 29 All-Ivy honorees. The Bears notched back-to-back 9-6 campaigns in 2013 and 2014, their most successful seasons since 1997. McDonald and the Bears scored their most impressive victory on March 8, 2014, a 14-13 OT win over No. 16 Princeton, Brown's first win over the Tigers since 1991.
As an undergraduate at Brown, McDonald started at Midfield/Attack all four years with the Bears, earning Second Team All-Ivy and Academic All-Ivy in 2000. She finished her career with 86 points (66g, 20a), including 27 (21g, 6a) as a freshman in 1997, and ranking among the team's top five scorers in each of her four seasons.

Andrea Cofrin - Head Coach, Columbia University
Andrea Cofrin was named Columbia's head women's lacrosse coach on Thursday, September 3, 2015 by Peter Pilling, Columbia's Director of Intercollegiate and Physical Education.
Cofrin was most recently an assistant coach at Yale University for the 2014-15 season after leading Saint Anselm to its first NCAA Tournament appearance as the head coach in 2013-2014.
Cofrin's head coaching experience includes time at Saint Anselm, Siena, Lees-McRae College and the University of Dallas. She also served as an assistant coach for one year at Siena and one year at Oneonta State. Additionally, she spent more than three years as co-director and co-owner of the travel program, ADK Lacrosse.
Cofrin and her husband, Shawn, have one daughter, Rhiannon.

Jenny Graap - Head Coach, Cornell University
Jenny Graap returned to her alma mater in 1997 with one goal in mind: to build the Cornell women's lacrosse team into a championship contender. Now entering her 22nd year at the helm in 2018-19, Graap has been honored as the the 2002 Intercollegiate Women's Lacrosse Coaches Association Coach of the Year, the 2006 Inside Lacrosse Magazine Northeast Coach of the Year, and a three-time IWLCA Northeast Coach of the Year (2002, 2006, 2016), while developing the Big Red women's lacrosse program into one of the most successful in the nation.
Graap has built an Ivy League and national title contender in her first 19 years. She has posted a 180-120 record at Cornell and a 201-164 mark in 22 years as a head coach. She reached her 200th career win in dramatic fashion, defeating Penn, 11-10, on May 8, 2016, to win the Big Red's first-ever Ivy League Tournament Championship and earn an automatic bid to the NCAA Tournament.
A 1986 graduate of Cornell's College of Human Ecology, Graap was an assistant women's lacrosse coach at Penn State from 1990-93 while completing a master's degree in exercise and sport science. During her time with the Nittany Lions, they made three NCAA tournament appearances. Graap was also a field hockey and lacrosse intern at William Smith College from 1989-90. She received her first coaching experience as the head lacrosse mentor at the Oak Knoll School of the Holy Child in Summit, N.J., in 1989.
A native of West Chester, Pa., Graap attended East High School, where she lettered three times in basketball and played on the state runner-up field hockey team, in addition to the undefeated Chesmont lacrosse championship squad.
Graap and her husband, Dan Allen, reside in Ithaca.
www.GraapLacrosse.com

Mindy McCord - Head Coach, Jacksonville University
Mindy McCord is in her tenth season as the Jacksonville women's lacrosse head coach and has compiled a record of 94-40 in her first seven years with the Dolphins. Overall, this is her 28th season as a coach at the high school or collegiate level.
As the first-ever coach for the women's lacrosse program, McCord has quickly led the Dolphins to six consecutive conference championships, spanning both the ASUN Conference and National Lacrosse Conference, and three NCAA playoff appearances. Under her direction, the Dolphins have earned 16 NCAA statistical championships and one individual statistical title (Rachel Hannon, Draw Control).
As a women's lacrosse and field hockey coach, McCord has accumulated 237 wins in two sports at all levels. Her teams have earned either first-place championships or runner-up status 11 times during her 22 seasons as a head coach. McCord has recruited and developed 11 All-Americans, 23 regional All-Americans, and four conference players of the year.
McCord's coaching career began while studying for her masters in Counselor Education at Virginia Tech. While attending the school, she coached the women's lacrosse club team for two years, helping them to earn Division I status in the ACC.
Her full-time coaching career began as a 23-year old head coach at prestigious Oberlin College in Ohio. As one of the NCAA's youngest head coaches, she hit the ground running winning consecutive lacrosse conference titles in 1997 and 1998. During the 1997 season, her squad boasted an undefeated conference record (11-0), leading to North Coast Athletic Conference Coach of the Year honors. The two titles were the only two championships won by any program at Oberlin College during her four-year tenure.
As a player, McCord has national and international playing experience. She was a four-year starter at Lynchburg (VA) College; earning rookie of the year, team captain, all conference, regional All-American, and North/South Senior All Star game honors. Coach McCord also played while studying abroad in Australia.
McCord was born in Westminster, Md., and attended Westminster High School where she played field hockey, lacrosse, and ran track, earning honors in all three sports. In her senior year, she founded and implemented the first lacrosse club in Carroll County, Md., for middle and high school girls. Her husband Paul, is the associate head coach at JU. Their daughter Taylor, played and graduated from Jacksonville and the couple welcomed a son, Lytton, in 2015. The family lives in Neptune Beach, Fla.

Dana Dobbie - Assistant Coach, Loyola University
Dana Dobbie will enter her eleventh season as an assistant coach in 2019. A two-time All-American and Tewaaraton Trophy finalist, Dobbie concluded her playing career as the NCAA's all-time leader in draw controls in 2008.
Since graduating, Dobbie has translated her passion for the sport as a player into her coaching style. Mentoring Loyola's midfielders, Dobbie has helped Adams incorporate a style of play that places the Greyhounds among the nation's best. In each of the last four years, Dobbie has helped the Greyhounds lead the nation in caused turnovers and/or caused turnovers per game. Loyola is also the only program in the NCAA to have at least 200 caused turnovers in each of the last four seasons.
Dobbie completed her collegiate playing career in 2008 as one of the top midfielders in NCAA history. At the University of Maryland, where she played for Adams, Dobbie was a two-time Atlantic Coast Conference (ACC) Player of the Year and the 2008 Intercollegiate Women's Lacrosse Coaches Association (IWLCA) Midfielder of the Year.
A two-time Tewaaraton Trophy finalist in 2007 and 2008, Dobbie set the NCAA career record for draw controls (334) during her final collegiate season. As a senior, she led Division I, and set an NCAA single-season record with 126 draw controls.
Dobbie, still playing for the Canadian National Team, competed on the bronze medal winning squad at the 2009 World Cup before leading the Canadians to a silver medal on their home turf, in Oshawa, at the 2013 games. Dobbie was named to the All-World Team after both World Cups. She was also captain of the 2003 Canadian Junior U-19 team, leading the squad in goals scored, and was a member of the 2003 World Championship team that won a bronze medal.
She graduated in May 2008 with a bachelor of arts degree in family science from Maryland.

Christine Halfpenny - Head Coach, University of Notre Dame
Christine Halfpenny enters her eighth season as head coach of the Notre Dame women's lacrosse program in 2019 after leading the Irish to the NCAA Quarterfinals for the first time since 2009. The postseason run marked the fifth consecutive time the Irish have competed in the NCAA Championship -- the first time in school history that Notre Dame has reached the NCAAs in at least four straight years.
Halfpenny came to Notre Dame from William & Mary, where her teams achieved four straight 10-win seasons and a pair of regular-season conference titles over her final four seasons with the program.
Halfpenny's Tribe squads captured Colonial Athletic Association regular-season titles in both 2008 and 2009 - and she merited CAA coach-of-the-year honors in 2008. Her teams combined for a 20-8 record in league play (including four straight conference tournament bids) - as William & Mary reached double digits in victories each of the last four seasons (10-7 in 2011 and 2009, 10-8 in 2010, 10-9 in 2008). Those four consecutive 10-win seasons matched the best previous stretch in program history.
A four-year letter-winner in women's lacrosse at Virginia Tech, Halfpenny started on the 1999 Hokie team that won the Atlantic 10 Conference championship, finished 11-6 and achieved a program-first top-20 ranking. She received the coaches award that year and was a two-time member of the athletic director's honor roll (1998, 1999). She graduated in 1999 with a degree in health and physical education.

Melissa Lehman - Associate Head Coach, Univ. of Pennsylvania
Melissa Lehman C'08 returned to Penn in the summer of 2009 to serve as an assistant coach for her alma mater and recently finished her ninth season as an assistant coach with the Quakers.
During her time on the coaching staff, Penn has won eight Ivy League championships, claimed three Ivy League Tournament titles, and advanced to nine NCAA Tournaments including a spot in the NCAA Quarterfinals in 2016.
At Penn, Lehman works extensively with the Red and Blue's midfield and defense on schemes and strategy. During her tenure, five midfielders and two defenders have earned All-American honors -- including Meg Markham who earned back-to-back All-America selections on defense, Alex Condon who earned two All-America nods at midfield, and Erin Barry who was named All-American at midfield in 2018. In addition, midfielders and defenders have earned 22 All-Region honors.
At the League level, 29 Penn middies and defenders have earned All-Ivy honors with Alex Condon (Ivy League Midfielder of the Year, 2017), Shannon Mangini (Ivy League Midfielder of the Year, 2013), Meg Markham (Ivy League Defender of the Year, 2014 and 2015) and Natalie Stefan (Ivy League Defender of the Year, 2018) receiving the League's top honor. In addition to her work with the back end, she is an experienced source of information for Penn's offensive unit with 102 career points as a collegian.
An All-America midfielder as a player at Penn from 2005-08, Lehman captained the Quakers' 2008 team that advanced to the NCAA national final. While a student-athlete in University City, Lehman was part of the group which helped guide the Red and Blue to elite status in collegiate women's lacrosse as the Quakers won back-to-back outright Ivy championships in 2007-08 and twice advanced to the NCAA Championship Weekend. Lehman was twice named All-Ivy, earning first-team honors in 2008 and honorable mention distinction in 2007.
Upon her graduation, Lehman began her coaching career with a stint at Brown University during the 2009 season. While in Providence, Lehman saw the Bears go 7-8 with wins over Harvard, Columbia and Yale in the Ivies in addition to a nail-biting double-overtime win against Connecticut.
Lehman resides in Philadelphia.

Chris Sailer - Head Coach, Princeton University
Chris Sailer begins her 33rd season at the helm of the Princeton women's lacrosse program for the 2018-19 academic year. She was inducted into the US Lacrosse National Hall of Fame in 2008.
She has guided the team to three NCAA championships, 11 national semifinal appearances, 22 NCAA tournament appearances and 11 Ivy League titles.
Sailer ranks second in NCAA history among Division I coaches in victories, with an astonishing 360 career wins, and also is the fifth winningest active coach across all divisions and sixth all-time. She has coached the most games in NCAA Tournament history, a total of 50 games. She ranks second in NCAA games won, sitting four games back of Kelly Amonte Hiller (Northwestern) and one in front of Cindy Timchal (Northwestern, Maryland, Navy).
Under Sailer's guidance, Princeton put together a stretch of 12 straight NCAA Tournament appearances from 1998-2009. The team has made the tournament in 21 of the last 24 seasons beginning in 1992. The Tigers reached at least the national semifinals five straight seasons from 1992-96 and again from 2000-04, and at least the quarterfinals 15 consecutive times from 1989-2006.
Sailer's teams have been ranked among nationally at some point in the season in each of the last 24 years, including appearances at No. 1 in 1989, '92, '94, '95, '03, '04 and '05, and finished at No. 1 in both 2004 and 2002.
Sailer came to Princeton from Penn, where she served as assistant coach for both the field hockey and lacrosse teams. Prior to her stint there, she attended the University of Massachusetts, where she earned a master's degree in sports management.
A 1981 graduate of Harvard, Sailer captained both the lacrosse and field hockey teams in Cambridge. She was a two-time first-team All-Ivy selection in lacrosse and was a member of the U.S. National Team. Sailer received the Radcliffe Alumni Association Award for athletic excellence and leadership her senior year.
In addition to her membership into the US Lacrosse National Hall of Fame, she belongs to four other halls of fame. She is a 1996 inductee to the New England Lacrosse Hall of Fame, a 1997 member of the Harvard Varsity Club Hall of Fame, a 1998 inductee of the Haverford (Pa.) High School Sports Hall of Fame and 2003 class member of the Pennsylvania Lacrosse Hall of Fame.
Sailer's involvement in the sport of women's lacrosse doesn't end with coaching. She is actively involved in stimulating the growth of the sport. She is a former chair of the Tewaaraton Trophy selection committee, a former member of the NCAA Women's Lacrosse Committee, former president, treasurer and board member of the IWLCA and former member of the US Lacrosse Women's Division Board of Governors. Sailer currently is on the US Lacrosse Hall of Fame Committee and on the board of directors of Harlem Lacrosse and Leadership.
Her heavy involvement in the sport has earned her the 2008 Diane Geppi-Aikens Memorial Award, presented by the IWLCA for lifetime achievement in contribution to women's lacrosse.
www.SailerLacrosse.com

Amy Bokker - Head Coach, Stanford University
Since Amy Bokker joined the Cardinal for the 2009 season, she has established Stanford as one of the West's premier programs, consistently ranked among the country's Top 20.
Bokker has led Stanford to five Mountain Pacific Sports Federation Tournament titles and to six NCAA tournament appearances in eight seasons.
In 2015, Stanford finished 15-3, tying the fewest losses in school history, and led the nation in goals per game (16.00) and draw controls (16.28). The Cardinal also extended its run of conference tournament final appearances to 18.
Bokker also serves an assistant coach for the U.S. national team. In 2013, Bokker helped coach the U.S. to the 2013 FIL Women's World Cup title. After joining the staff as an assistant in 2010, Bokker helped coach the U.S. to its seventh world title as the Americans outscored opponents by a combined 127-34 over seven games in Oshawa, Ontario, Canada.
Bokker assisted the Canadian national team in the 2009 FIL World Cup in Prague, Czech Republic, where it captured the bronze medal, the first medal the country had won in 28 years.
Through the 2015 season, Bokker's record was 190-139 as a Division I head coach.
The former Amy Umbach is a native of Phoenixville, Pa., where she was a three-sport high school star, in lacrosse, field hockey and swimming. She was a two-time All-CAA first-team choice at William and Mary, where she also played field hockey. She was also named a BRINE/IWLCA All-American her senior season.
She earned her master's degree from George Mason in exercise, fitness and health promotion in 2007.
Bokker is the sixth head coach in the 21-year history of varsity women's lacrosse at Stanford. Bokker and her husband, Scott, have a son, Chase, and a daughter, Alexis.

Karen Henning - Head Coach, Colby College
Karen MacCrate Henning, who won national titles as a player and coach, is in her 12th season as head coach of the women's lacrosse team in the 2018-19 academic year.
In her first nine seasons Henning has led the Mules to seven NCAA tourney appearances, including four national quarterfinal berths. She helped the Mules win the program's first New England Small College Athletic Conference (NESCAC) title in 2008, then led the Mules to another league title in 2009. The Mules also made the NESCAC title game in the 2010 and 2011 seasons. She earned the New England Pilgrim Region and NESCAC Coach of the Year honors in her first year. Colby is 120-43 in Henning's nine seasons.
Henning has achieved success throughout her lacrosse career. She was an attacker for the University of Maryland, which won national titles in 1995 and 1996 and finished unbeaten in both seasons. Henning was an NCAA Division I First Team All-American in 1995 and 1996 and finished her career with 78 goals and 76 assists for 154 points. Maryland had a 61-3 record during Henning's four seasons.

Kate Livesay - Head Coach, Middlebury College
Kate Livesay joined the Panther staff in the summer of 2014. She came to Middlebury from NESCAC foe Trinity, where she served as the head coach for eight seasons, amassing a stunning career record of 127-26 (.830). Following the retirement of legendary coach Missy Foote in the summer of 2015, Livesay took over the reigns of the program.
In her first season as the Panther head coach, Livesay produced a memorable one for her alma mater. She guided her team to a program-record 22 wins (22-1) en route to winning Middlebury's sixth women's lacrosse NCAA Championship. Livesay guided the Panthers to a 16-5 record in 2017 against one of the nation's toughest schedules, advancing to the NCAA Quarterfinals.
Livesay arrived at Trinity as a graduate assistant coach for lacrosse and field hockey in 2004-05 and was appointed the school's head women's lacrosse coach in the summer of 2006. In her first season in 2007, Trinity won 12 games and returned to the NCAA Tournament for the first time since 1998 after a 5-9 mark the previous spring.
From 2010 to 2014, Trinity compiled an astounding 94-10 record, including back-to-back 21-1 marks in 2012 and 2013. The 2012 squad captured the school's first women's NCAA Championship, while the 2013 team advanced to the NCAA title game. The Bantams won NESCAC crowns from 2011-2014, advancing to the NCAA Quarterfinals twice with three trips to the title game.
Livesay was named NESCAC Coach of the Year four times, the Intercollegiate Women's Lacrosse Coaches Association (IWLCA) Regional Coach of the Year five times, while earning IWLCA National Coach of the Year honors in 2012.
Livesay earned a bachelor's degree in American civilization at Middlebury, where she was a four-year starter in field hockey and lacrosse (All-American). She served as captain of both of those squads during her senior year, while being a member of the basketball team during her first two seasons. She earned her master's degree in history from Trinity in 2007.
As a defender for the Middlebury lacrosse team, Livesay saw her team go 64-3 over her four seasons, winning NCAA Championships with perfect seasons in 2001 and 2002. The team won all three NESCAC Championships contested in her time, advancing to the final four in 2000 and the NCAA title game in 2003.

Katy Dissinger - Head Coach, Trinity College
Katy Dissinger was promoted to head coach of the Trinity College women's lacrosse team in June of 2014. Dissinger, the 2012 Intercollegiate Women's Lacrosse Coaches Association (IWLCA) National Assistant Coach of the Year and the 2016 IWLCA Division III Berkshire Region Coach of the Year, has played a significant role in Trinity's unprecedented run to the last four NCAA Division III Championship Finals including an NCAA Championship season in 2012. She was also a participant in the 2011 NCAA Final Four as a captain for Bowdoin College's squad.
Dissinger earned her bachelor's degree from Bowdoin in visual arts and environmental studies in 2011, and added a master's degree in public policy from Trinity in 2013. Dissinger starred at center midfielder for her alma mater from 2008 to 2011, earning IWLCA All-Regional honors twice and receiving the program's Ellen Tiemer Trophy for excellence in lacrosse by a vote of her teammates and her coach. Dissinger, who was also an assistant field hockey coach at Trinity from 2011 to 2013, is an assistant professor in the College's athletic department. Dissinger, an assistant professor in the Trinity athletic department, has organized a fall clinic for inner-city youth in Hartford the last three autumns, and serves on the athletic department's marketing and communication committee and its sports medicine committee. She resides in Hartford.

Courtney Farrell - Head Coach, Tufts University
The Tufts University Women's Lacrosse program has returned to the national stage under third-year head coach Courtney Farrell. After narrowly missing an NCAA Tournament berth in 2014, the Jumbos advanced to the NCAA Round of 16 last spring.
Farrell's 2015 team earned the program's first NCAA berth since 2011 and won a second-round game at Messiah 14-7. In the very competitive New England Small College Athletic Conference (NESCAC), Tufts advanced to the conference championship semi-final also for the first time since 2011. They lost to two-time defending national finalist and 2012 NCAA champion Trinity College 8-7 in overtime.
Farrell is a 2008 graduate of Cornell University, where she earned a bachelor's degree in applied economics and management. She immediately went into coaching, serving as an assistant at Division I American University for the 2009 season. She was then an assistant for the 2010 Ivy League runners-up at Dartmouth College.
Farrell became the sixth head coach of Jumbo Women's Lacrosse since the program was founded in 1975. Originally from Fayetteville, New York, Farrell is a 2004 graduate of Fayetteville-Manlius High School.

Kim Williams - Head Coach, Wesleyan University
Kim Williams enters her fourth season at the helm of the women's lacrosse program. On July 1, 2015, she became the eighth head coach for the Cardinals over their 40-year varsity history. Wiliams also serves as an adjunct assistant professor of physical education at the unversity, and holds the position of Club Sports Coordinator.
Prior to her tenure at Wesleyan, Williams served two seasons as head coach at Stockton University in New Jersey, three seasons as an assistant coach at Colby College in Waterville, Maine, and four seasons as a stellar competitor at C.W. Post University in Brookville, N.Y. Bringing the Ospreys at Stockton into their first varsity season in 2014, Williams met with immediate success behind a 16-4 victory over Notre Dame (Md.) in the team's varsity opener. Stockton posted a 10-5 record in 2014 and featured the New Jersey Athletic Conference (NJAC) Rookie of the Year. The Ospreys followed up with a 10-6 mark in 2015 while boasting the NJAC Goaltender of the Year.
Williams began her college coaching career with the Mules of Colby from 2011-13, in which the team qualified for the NCAA Division III tournament each year and amassed a brilliant 43-13 overall record, including a 22-7 mark against New England Small College Athletic Conference (NESCAC) rivals. The NESCAC is the top Division III women's lacrosse conference in the nation and had eight teams ranked among the top-20 nationally in the final 2015 Intercollegiate Women's Lacrosse Association (IWLCA) poll, led by NCAA tournament runner-up Trinity College. No other conference had more than three teams in the top-20.
After a tremendous high-school playing career at West Morris (N.J.), where she earned third-team all-state recognition, Williams played four seasons at C.W. Post, helping Post reach the NCAA Division II tournament each year with one title and three other appearances in the Final Four. She was recognized as an IWLCA All-American three times along with IWLCA Division II Defender of the Year accolades as a sophomore and Womenslacrosse.com Division II Midfielder of the Year recognition as a senior. She also earned first-team all-conference accolades three times.
In addition to her on-the-field laurels, Williams was lauded by the IWLCA, the East Coast Conference and the College Sports Information Directors Association (CoSIDA) with academic honors during her college playing days. She also earned a Woman of Achievement Award and Distinguished Graduating Student Leadership Award from C.W. Post before graduating magna cum laude in 2010 with a degree in childhood education.

Alice Lee- Head Coach, Williams College
Williams College Athletic Director Lisa Melendy announced on May 23, 2017 that Alice Lee has been named the head coach of women's lacrosse at Williams.
Lee comes to Williams after coaching six years in the New England Small College Athletic Conference (NESCAC). The last two years Lee was an assistant coach at Middlebury College and the four years before Middlebury she was an assistant coach at Amherst College.
"I am quite pleased with the hiring of Alice Lee as the next head women's lacrosse coach at Williams," stated Melendy. "She comes to us with a distinguished coaching pedigree, having been an assistant at some of the top Division III programs in the country. The committee was impressed with her evident passion for coaching and the game of lacrosse, as well as her plan for beginning the next chapter of Williams women's lacrosse. It is clear that following coaching legend Chris Mason is a big job, but I believe Alice is up to the challenge and well positioned to do so. I would like to thank the search committee for their time and thoughtful consideration during this process."
While coaching at Middlebury (2015-17) Lee helped guide the Panthers to the 2016 NESCAC and NCAA titles and was named the Intercollegiate Women's Lacrosse Association (IWLCA) Division III National Assistant Coach of the Year.
Lee played goalie collegiately at Central Connecticut State University, where she was a two-time captain, three-time all-conference selection, voted outstanding teammate, and most valuable player.
Lee graduated from Central Connecticut State University in 2009 with a B.S. in Management and a concentration in Entrepreneurship.