Annual Girls Summer Prospect Camp - Newport, RI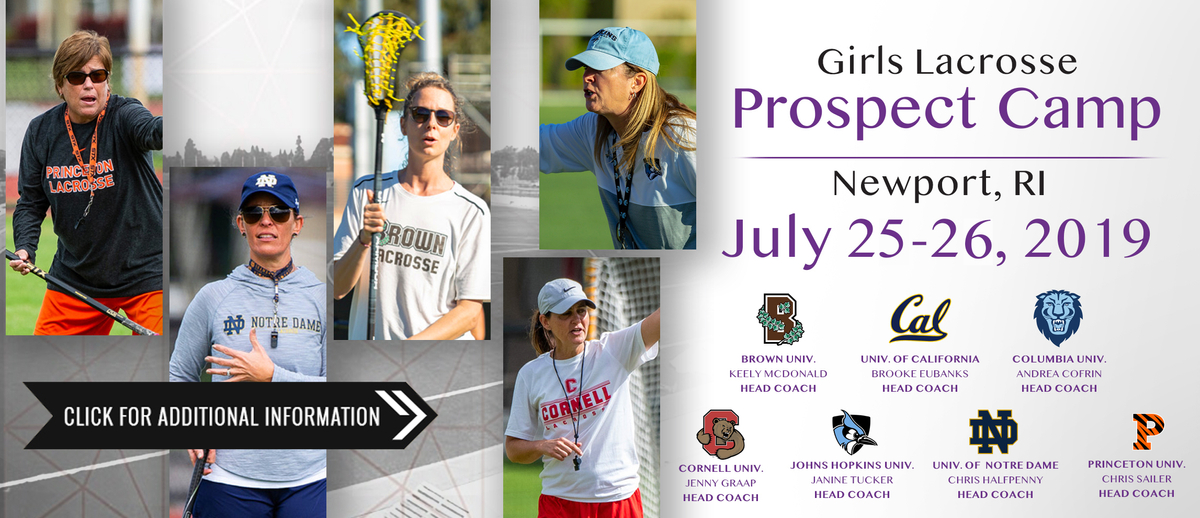 The Ultimate Lacrosse Experience
Our Annual Newport, RI Summer Prospect Camp is unlike any camp in the country. 7 HEAD coaches from some of the world's finest academic institutions will be on staff for the duration of the camp. The make-up of our World-Class staff and the institutions they represent is unprecedented. Nowhere will you find a camp staffed by this caliber of coaches from both top lacrosse programs and the best academic institutions in the world. Our camp is designed to provide every participant with the best instruction and Guaranteed Exposure to many of the nation's most well respected NCAA Division I lacrosse coaches from the world's best academic institutions.
This is a MUST ATTEND camp for any player interested in playing at any of these schools. Each participate will be coached and seen by every coach on staff - guaranteed. You will not find this level of exposure and instruction at any camp or tournament.
Camp is open to those players in the 2021, 2022 and 2023 graduation years.
CAMP IS LIMITED TO ONLY 114 TOTAL PLAYERS

Keely McDonald - Head Coach, Brown University
A 2000 Brown University graduate and former Bears' lacrosse standout, Keely McDonald returned to her alma mater to head the Brown women's lacrosse program during the fall of 2004 following assistant coaching stints at Princeton and Northwestern.
In 12 years, McDonald has coached 12 Regional All-Americans and 29 All-Ivy honorees. The Bears notched back-to-back 9-6 campaigns in 2013 and 2014, their most successful seasons since 1997. McDonald and the Bears scored their most impressive victory on March 8, 2014, a 14-13 OT win over No. 16 Princeton, Brown's first win over the Tigers since 1991.
As an undergraduate at Brown, McDonald started at Midfield/Attack all four years with the Bears, earning Second Team All-Ivy and Academic All-Ivy in 2000. She finished her career with 86 points (66g, 20a), including 27 (21g, 6a) as a freshman in 1997, and ranking among the team's top five scorers in each of her four seasons.

Brooke Eubanks - Head Coach, Univ of California Berkeley
Brooke Eubanks, who won multiple medals as a player for the Canadian Senior National Team, is in her fifth season as head coach at Cal in 2018.
Prior to coming to Cal, Eubanks served as an assistant coach at Stanford. While on The Farm, Eubanks served as the team's offensive coordinator and recruiting coordinator with responsibilities such as in-game play calling, scouting opponents and coordinating practices. With her help, the Cardinal won four Mountain Pacific Sports Federation (MPSF) championships, garnered multiple national top-10 rankings, set a school record for the most wins in a season in program history (16, 2011) and produced four MPSF Players of the Year and one MPSF Rookie of the Year. In addition, Stanford earned IWLCA Division I Merit Squad recognition in 2011.
Prior to her tenure at Stanford, Eubanks was an assistant coach at George Mason from 2006-08. During that span, George Mason collected the school record for wins in a season (12, 2008) and garnered the team's highest national ranking in school history at No. 9. Eubanks served under current Stanford head coach Amy Bokker at both Stanford and George Mason.
As a player, Eubanks was a member of the Canadian Senior National Team from 2003-13, playing in three World Cups. Canada won the silver medal in 2013, with Eubanks serving as team captain. She was second on her team in scoring in the 2009 World Cup, helping the Canadians capture the bronze medal.
Brooke and her husband, Eric, have two daughters, Olive and Johnie.

Andrea Cofrin - Head Coach, Columbia University
Andrea Cofrin was named Columbia's head women's lacrosse coach on Thursday, September 3, 2015 by Peter Pilling, Columbia's Director of Intercollegiate and Physical Education.
Cofrin was most recently an assistant coach at Yale University for the 2014-15 season after leading Saint Anselm to its first NCAA Tournament appearance as the head coach in 2013-2014.
Cofrin's head coaching experience includes time at Saint Anselm, Siena, Lees-McRae College and the University of Dallas. She also served as an assistant coach for one year at Siena and one year at Oneonta State. Additionally, she spent more than three years as co-director and co-owner of the travel program, ADK Lacrosse.
Cofrin and her husband, Shawn, have one daughter, Rhiannon.

Jenny Graap - Head Coach, Cornell University
Jenny Graap returned to her alma mater in 1997 with one goal in mind: to build the Cornell women's lacrosse team into a championship contender. Now entering her 22nd year at the helm in 2018-19, Graap has been honored as the the 2002 Intercollegiate Women's Lacrosse Coaches Association Coach of the Year, the 2006 Inside Lacrosse Magazine Northeast Coach of the Year, and a three-time IWLCA Northeast Coach of the Year (2002, 2006, 2016), while developing the Big Red women's lacrosse program into one of the most successful in the nation.
Graap has built an Ivy League and national title contender in her first 19 years. She has posted a 180-120 record at Cornell and a 201-164 mark in 22 years as a head coach. She reached her 200th career win in dramatic fashion, defeating Penn, 11-10, on May 8, 2016, to win the Big Red's first-ever Ivy League Tournament Championship and earn an automatic bid to the NCAA Tournament.
A 1986 graduate of Cornell's College of Human Ecology, Graap was an assistant women's lacrosse coach at Penn State from 1990-93 while completing a master's degree in exercise and sport science. During her time with the Nittany Lions, they made three NCAA tournament appearances. Graap was also a field hockey and lacrosse intern at William Smith College from 1989-90. She received her first coaching experience as the head lacrosse mentor at the Oak Knoll School of the Holy Child in Summit, N.J., in 1989.
A native of West Chester, Pa., Graap attended East High School, where she lettered three times in basketball and played on the state runner-up field hockey team, in addition to the undefeated Chesmont lacrosse championship squad.
Graap and her husband, Dan Allen, reside in Ithaca.
www.GraapLacrosse.com

Janine Tucker - Head Coach, Johns Hopkins University
Janine Tucker, a five-time IWLCA Regional Coach of the Year, is the all-time winningest coach at Johns Hopkins with a 271-144 (.653) record in 24 seasons, including a 203-128 (.611) mark at the Division I level. She took over the Blue Jay women's lacrosse program in August 1993 and successfully guided the program's transition from Division III to Division I without missing a beat. A 1989 graduate of Loyola (MD) and a member of the Greyhound Athletic Hall of Fame, Tucker has led the Blue Jays to double-digit win totals in 19 of her 23 seasons, six NCAA Division I Tournament appearances, three ECAC Division I championship games and four NCAA Division III Tournament appearances. Tucker reached yet another milestone in 2016 as she became the ninth coach in NCAA Division I history to reach 250 wins when JHU beat visiting Marquette, 11-8, on February 12. The win was also the 400th in program history.
After a successful career as an All-American lacrosse player at Loyola, Tucker broke into the coaching ranks at her alma mater as an assistant. She helped coach the nationally-ranked Greyhounds for four seasons, and her success as an assistant for a prominent Division I power led her across town to Hopkins when the women's lacrosse position became available in 1993. She is the director of Tucker Lacrosse, which helps her promote womenís lacrosse through camps, clinics and speaking engagements across the country. Tucker co-wrote her first book with Maryalice Yakuchik entitled ´The Baffled Parents' Guide To Coaching Girlís Lacrosse" which was published in 2003. She has since published five more books: "Women's Lacrosse: A Guide for Advanced Players and Coaches" (2008, 2014), "Go to Drills: Developing the Complete Lacrosse Player" (2009), ´Building the Modern Midfielder" (2012), ´Building the Modern Attacker" (2013) and "Building the Modern Defender" (2015). Tucker is also a member of the Positive Coaching Alliance National Board of Advisors as well as the Collegiate Officials Association (COA) and the US Lacrosse Long-term Lacrosse Athlete Development Model Committee.

Christine Halfpenny - Head Coach, University of Notre Dame
Christine Halfpenny enters her eighth season as head coach of the Notre Dame women's lacrosse program in 2019 after leading the Irish to the NCAA Quarterfinals for the first time since 2009. The postseason run marked the fifth consecutive time the Irish have competed in the NCAA Championship -- the first time in school history that Notre Dame has reached the NCAAs in at least four straight years.
Halfpenny came to Notre Dame from William & Mary, where her teams achieved four straight 10-win seasons and a pair of regular-season conference titles over her final four seasons with the program.
Halfpenny's Tribe squads captured Colonial Athletic Association regular-season titles in both 2008 and 2009 - and she merited CAA coach-of-the-year honors in 2008. Her teams combined for a 20-8 record in league play (including four straight conference tournament bids) - as William & Mary reached double digits in victories each of the last four seasons (10-7 in 2011 and 2009, 10-8 in 2010, 10-9 in 2008). Those four consecutive 10-win seasons matched the best previous stretch in program history.
A four-year letter-winner in women's lacrosse at Virginia Tech, Halfpenny started on the 1999 Hokie team that won the Atlantic 10 Conference championship, finished 11-6 and achieved a program-first top-20 ranking. She received the coaches award that year and was a two-time member of the athletic director's honor roll (1998, 1999). She graduated in 1999 with a degree in health and physical education.

Chris Sailer - Head Coach, Princeton University
Chris Sailer begins her 33rd season at the helm of the Princeton women's lacrosse program for the 2018-19 academic year. She was inducted into the US Lacrosse National Hall of Fame in 2008.
She has guided the team to three NCAA championships, 11 national semifinal appearances, 22 NCAA tournament appearances and 11 Ivy League titles.
Sailer ranks second in NCAA history among Division I coaches in victories, with an astonishing 360 career wins, and also is the fifth winningest active coach across all divisions and sixth all-time. She has coached the most games in NCAA Tournament history, a total of 50 games. She ranks second in NCAA games won, sitting four games back of Kelly Amonte Hiller (Northwestern) and one in front of Cindy Timchal (Northwestern, Maryland, Navy).
Under Sailer's guidance, Princeton put together a stretch of 12 straight NCAA Tournament appearances from 1998-2009. The team has made the tournament in 21 of the last 24 seasons beginning in 1992. The Tigers reached at least the national semifinals five straight seasons from 1992-96 and again from 2000-04, and at least the quarterfinals 15 consecutive times from 1989-2006.
Sailer's teams have been ranked among nationally at some point in the season in each of the last 24 years, including appearances at No. 1 in 1989, '92, '94, '95, '03, '04 and '05, and finished at No. 1 in both 2004 and 2002.
Sailer came to Princeton from Penn, where she served as assistant coach for both the field hockey and lacrosse teams. Prior to her stint there, she attended the University of Massachusetts, where she earned a master's degree in sports management.
A 1981 graduate of Harvard, Sailer captained both the lacrosse and field hockey teams in Cambridge. She was a two-time first-team All-Ivy selection in lacrosse and was a member of the U.S. National Team. Sailer received the Radcliffe Alumni Association Award for athletic excellence and leadership her senior year.
In addition to her membership into the US Lacrosse National Hall of Fame, she belongs to four other halls of fame. She is a 1996 inductee to the New England Lacrosse Hall of Fame, a 1997 member of the Harvard Varsity Club Hall of Fame, a 1998 inductee of the Haverford (Pa.) High School Sports Hall of Fame and 2003 class member of the Pennsylvania Lacrosse Hall of Fame.
Sailer's involvement in the sport of women's lacrosse doesn't end with coaching. She is actively involved in stimulating the growth of the sport. She is a former chair of the Tewaaraton Trophy selection committee, a former member of the NCAA Women's Lacrosse Committee, former president, treasurer and board member of the IWLCA and former member of the US Lacrosse Women's Division Board of Governors. Sailer currently is on the US Lacrosse Hall of Fame Committee and on the board of directors of Harlem Lacrosse and Leadership.
Her heavy involvement in the sport has earned her the 2008 Diane Geppi-Aikens Memorial Award, presented by the IWLCA for lifetime achievement in contribution to women's lacrosse.
www.SailerLacrosse.com