Girls Lacrosse Prospect Camp - Richmond, VA
Camp is LIMITED to ONLY 76 TOTAL Players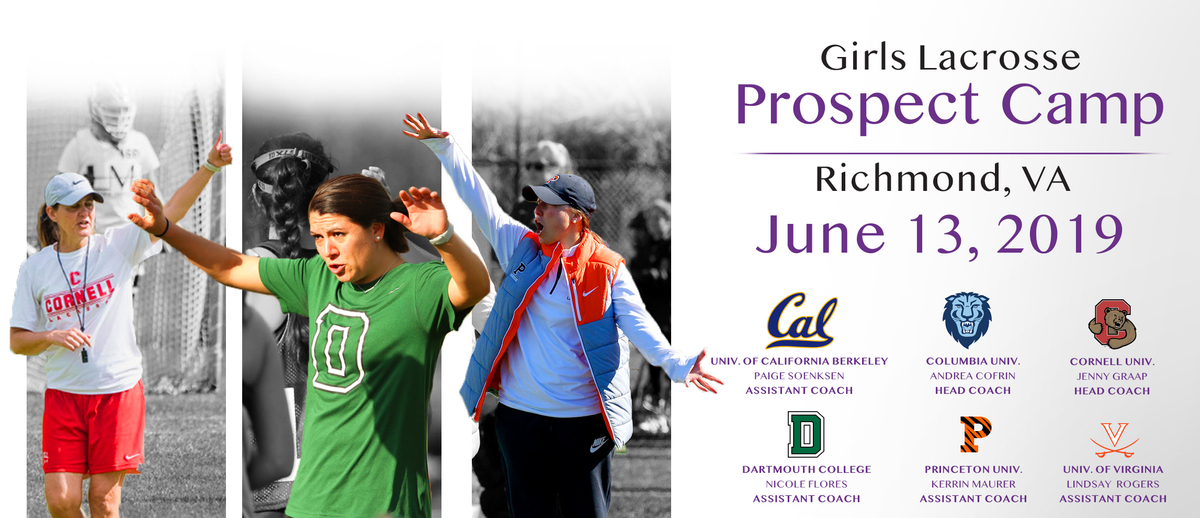 The Ultimate Lacrosse Experience
The Lacrosse Masters Prospect Camp at the Collegiate School is unlike any camp in the country. Six HEAD and Assistant coaches from some of the world's finest academic institutions will be on staff for the duration of the camp. Our camp is designed to provide every participant with the best instruction and Guaranteed Exposure to many of the nation's most well respected NCAA Division I lacrosse coaches from the world's best academic institutions.
This camp is limited to ONLY 76 TOTAL players. The make-up of our World-Class staff and the institutions they represent, in combination with the intimacy of the camp is unprecedented.
This is a MUST ATTEND camp for any player interested in playing at any of these schools. Each participate will be coached and seen by every coach on staff - GUARANTEED. You will not find this level of exposure and instruction at any camp or tournament.
Camp is open to ANY and ALL players in the 2021, 2022 and 2023 graduation years.
Paige Soenksen - Assistant Coach, Cal Berkeley
Paige Soenksen, a 2017 All-American at Colorado, joined the California women's lacrosse coaching staff for the 2018 season.
Soenksen was one of the original Buffaloes when the program first started five years ago. Over the course of her career, she was a major catalyst in taking the program to a national top-10 ranking in 2017.
In addition to her All-America honors, Soenksen was named to the all-region and MPSF All-Conference first teams after leading the conference in save percentage, while her goals-against average ranked second in the MPSF. She led Colorado to the third best scoring defense in the nation. Soenksen started 19 of CU's 20 games last season, and has started 73 of 74 games in program history.
Soenksen will bring a wealth of experience and accolades from her collegiate career with her to Berkeley. In addition to her honors earned as a 2017 senior, she also earned All-MPSF honors as a freshman and a sophomore, while garnering second-team MPSF All-Conference honors in 2016. She was also named to the IWLCA All-Region team in both her freshman and sophomore seasons.

Andrea Cofrin - Head Coach, Columbia University
Andrea Cofrin was named Columbia's head women's lacrosse coach on Thursday, September 3, 2015 by Peter Pilling, Columbia's Director of Intercollegiate and Physical Education.
Cofrin was most recently an assistant coach at Yale University for the 2014-15 season after leading Saint Anselm to its first NCAA Tournament appearance as the head coach in 2013-2014.
Cofrin's head coaching experience includes time at Saint Anselm, Siena, Lees-McRae College and the University of Dallas. She also served as an assistant coach for one year at Siena and one year at Oneonta State. Additionally, she spent more than three years as co-director and co-owner of the travel program, ADK Lacrosse.
Cofrin and her husband, Shawn, have one daughter, Rhiannon.

Jenny Graap - Head Coach, Cornell University
Jenny Graap returned to her alma mater in 1997 with one goal in mind: to build the Cornell women's lacrosse team into a championship contender. Now entering her 21st year at the helm in 2017-18, Graap has been honored as the the 2002 Intercollegiate Women's Lacrosse Coaches Association Coach of the Year, the 2006 Inside Lacrosse Magazine Northeast Coach of the Year, and a three-time IWLCA Northeast Coach of the Year (2002, 2006, 2016), while developing the Big Red women's lacrosse program into one of the most successful in the nation.
Graap has built an Ivy League and national title contender in her first 19 years. She has posted a 180-120 record at Cornell and a 201-164 mark in 22 years as a head coach. She reached her 200th career win in dramatic fashion, defeating Penn, 11-10, on May 8, 2016, to win the Big Red's first-ever Ivy League Tournament Championship and earn an automatic bid to the NCAA Tournament.
In her tenure at Cornell, Graap has had 85 All-Ivy selections, 49 IWLCA All-Region selections, 17 IWLCA national All-Americans, three CoSIDA Academic All-Americans, three Ivy League Players of the Year and one national player of the year finalist. Her teams have reached postseason play nine times since she returned to Cornell and have won at least 10 games eight times as well.
A native of West Chester, Pa., Graap attended East High School, where she lettered three times in basketball and played on the state runner-up field hockey team, in addition to the undefeated Chesmont lacrosse championship squad.
www.GraapLacrosse.com
Nicole Flores - Assistant Coach, Dartmouth College
Nicole Flores came to Hanover and joined the Dartmouth coaching staff under Danielle Spencer prior to the start of the 2018 season.
In her first season with the team, the Big Green went 11-5 and made the Ivy League Tournament for the first time in five seasons.
Prior to her stint with the Big Green, she was a member of the coaching staff at Trinity. In her one season, the Bantams reached the Division III national semifinals, falling one game short of the national championship.
The Branford, Connecticut, native's time at Trinity followed a stint at Bowdoin College, where she worked from 2014 through 2016. During her time with the Polar Bears, she was part of a staff that helped lead the program to the 2015 New England Small College Athletic Conference (NESCAC) Championship Game as well as to the NCAA Division III Sweet-16.
"Nicole brings a ton of experience and perspective to our program. She has worked under great coaches and mentors, and is known for her work ethic and teaching ability," head coach Danielle Spencer said. "She will help us in all areas of the program, but is particularly strong on the defensive end of the ball."
Kerrin Maurer - Assistant Coach, Princeton University
Kerrin Maurer was named assistant coach of Princeton women's lacrosse in July 2017.
A 2015 graduate of Duke University, Maurer has been an assistant coach at Mt. St. Mary's for the last two seasons.
A two-time All-America, Maurer graduated as the program's all-time leader in assists with 119. She ranks fifth all-time in ACC history in assists and was a three-time ACC selection. A three-time Tewaaraton Trophy nominee, Maurer graduated second in Duke history in career points with 280 and tied for fourth in career goals with 161, while finishing on a 47-game point scoring streak. Mauer helped the Blue Devils to four NCAA quarterfinal appearances, and reached the semifinals in 2015 after topping Princeton in the quarterfinals.
Academically, Maurer was a two-time All-ACC Academic Team selection and a three-year member of the ACC Academic Honor Roll, while earning her degree in political science.
Lindsay Rogers - Assistant Coach, University of Virginia
Lindsay Rogers is entering her fourth season as an assistant coach at Virginia.
In the 2017 season, Rogers coached the defensive unit to holding opponents under 10 goals in nine games including five-straight.The Cavaliers finished 12-9 on the year, 4-3 in conference play with two All-Americans and the ACC Freshman of the Year.
Rogers, a three-time captain as a player at Syracuse, was voted the 2008 Big East Defender of the Year and will work primarily with Virginia's defenders. The second-team IWLCA All-American helped lead the Orange to back-to-back Big East titles in 2007 and 2008. Rogers won a then-program record 56 draw controls in her senior season.