Girls Prospect Camp - Owings Mills, MD
Camp is LIMITED to ONLY 76 TOTAL Players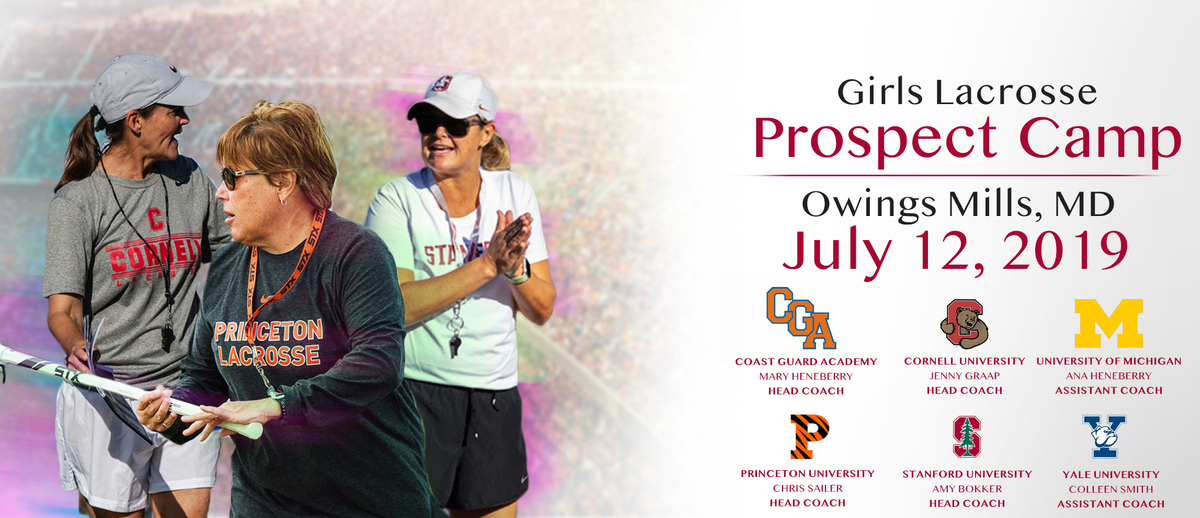 The Ultimate Lacrosse Experience
The Lacrosse Masters Prospect Camp at the Garrison Forest School is unlike any camp in the country. Six HEAD and Assistant coaches from some of the world's finest academic institutions will be on staff for the duration of the camp. Our camp is designed to provide every participant with the best instruction and Guaranteed Exposure to many of the nation's most well respected NCAA Division I & III lacrosse coaches from the world's best academic institutions.
This camp is limited to ONLY 76 TOTAL players. The make-up of our World-Class staff and the institutions they represent, in combination with the intimacy of the camp is unprecedented.
This is a MUST ATTEND camp for any player interested in playing at any of these schools. Each participate will be coached and seen by every coach on staff - GUARANTEED. You will not find this level of exposure and instruction at any camp or tournament.
Camp is open to ANY and ALL players in the 2021, 2022 and 2023 graduation years.
Mary Heneberry - Head Coach, U.S. Coast Guard Academy
Mary is in her third season as head coach of the women's lacrosse team.
Heneberry has served as the first assistant and professor of physical education at Washington & Lee since 2012 helping the Generals win four Old Dominion Athletic Conference (ODAC) championships and reach two NCAA Regional Finals in 2014 and 2015. She was a member of the ODAC coaching staff of the year in 2013 and served as fall season interim head coach in 2012 and 2015.
She played college lacrosse at Division I Loyola University Maryland, earning Big East second team all-conference honors and was an all-tournament team selection in her senior season (2011). The Greyhounds were also Big East Tournament champions and made it to the NCAA quarterfinals in 2011.
After she graduated, Heneberry was an intern and contributing writer for Inside Lacrosse Magazine, specifically ILWomen.com, from 2011-12 where she was responsible for weekly features on women's lacrosse, promotion of women's lacrosse and live game coverage.
Since 2013, Heneberry has served on the Intercollegiate Women's Lacrosse Coaches Association (IWLCA) convention planning committee. She contributes in organizing all facets of the annual IWLCA Convention for the coaches of the 513 NCAA women's lacrosse teams: plan four-day event itinerary, facilitate meeting and coaches panels and helped initiate and manage the first IWLCA rule change scrimmage.

Jenny Graap - Head Coach, Cornell University
Jenny Graap returned to her alma mater in 1997 with one goal in mind: to build the Cornell women's lacrosse team into a championship contender. Now entering her 22nd year at the helm in 2017-18, Graap has been honored as the the 2002 Intercollegiate Women's Lacrosse Coaches Association Coach of the Year, the 2006 Inside Lacrosse Magazine Northeast Coach of the Year, and a three-time IWLCA Northeast Coach of the Year (2002, 2006, 2016), while developing the Big Red women's lacrosse program into one of the most successful in the nation.
Graap, who accumulated 21 wins in four years at George Mason before taking the reigns at Cornell, has built an Ivy League and national title contender in her first 20 years. She has posted a 193-126 record at Cornell and a 214-170 mark in 23 years as a head coach. She reached her 200th career win in dramatic fashion, defeating Penn, 11-10, on May 8, 2016, to win the Big Red's first-ever Ivy League Tournament Championship and earn an automatic bid to the NCAA Tournament.
A native of West Chester, Pa., Graap attended East High School, where she lettered three times in basketball and played on the state runner-up field hockey team, in addition to the undefeated Chesmont lacrosse championship squad.
Ana Heneberry - Assistant Coach, University of Michigan
Ana Heneberry joined the University of Michigan women's lacrosse staff as an assistant coach on July 17, 2017, and works primarily with the Maize and Blue defense.
The 2018 season will mark Heneberry's sixth year as an assistant coach at the Division I level, while as a player, she was an All-America defender at Loyola University Maryland.
Most recently, Heneberry served as an assistant coach at Boston University for three seasons (2015-17), working primarily with the Terriers' defense. Heneberry helped BU reach the Patriot League semifinals in each of her three seasons. On an individual level, she coached the Patriot League Defender of the Year in 2017.
A native of Timonium, Maryland, Heneberry was a four-year standout defender at Loyola University Maryland from 2009-12. During her senior season in 2012, she helped lead the Greyhounds to their second straight Big East Conference title and second consecutive trip to the NCAA Tournament quarterfinals. That same season, Heneberry represented Loyola as a team captain, was recognized individually as the Big East Preseason Defender of the Year, and was a member of the Tewaaraton Watch List. She became the second player in school history to record 100 caused turnovers and 100 ground balls. She was also named a Third Team All-American following her junior season in 2011.

Chris Sailer - Head Coach, Princeton University
Chris Sailer begins her 33rd season at the helm of the Princeton women's lacrosse program for the 2018-19 academic year. She was inducted into the US Lacrosse National Hall of Fame in 2008.
She has guided the team to three NCAA championships, 11 national semifinal appearances, 25 NCAA tournament appearances and 14 Ivy League titles.
Sailer ranks second in NCAA history among Division I coaches in victories, with an astonishing 399 career wins, and also is the fourth winningest active coach across all divisions and sixth all-time. She has coached the most games in NCAA Tournament history, a total of 57 games.
Under Sailer's guidance, Princeton put together a stretch of 12 straight NCAA Tournament appearances from 1998-2009. The team has made the tournament in 21 of the last 24 seasons beginning in 1992. The Tigers reached at least the national semifinals five straight seasons from 1992-96 and again from 2000-04, and at least the quarterfinals 15 consecutive times from 1989-2006.
Sailer's teams have been ranked among nationally at some point in the season in each of the last 24 years, including appearances at No. 1 in 1989, '92, '94, '95, '03, '04 and '05, and finished at No. 1 in both 2004 and 2002.
Sailer came to Princeton from Penn, where she served as assistant coach for both the field hockey and lacrosse teams. Prior to her stint there, she attended the University of Massachusetts, where she earned a master's degree in sports management.
A 1981 graduate of Harvard, Sailer captained both the lacrosse and field hockey teams in Cambridge. She was a two-time first-team All-Ivy selection in lacrosse and was a member of the U.S. National Team. Sailer received the Radcliffe Alumni Association Award for athletic excellence and leadership her senior year.
In addition to her membership into the US Lacrosse National Hall of Fame, she belongs to four other halls of fame. She is a 1996 inductee to the New England Lacrosse Hall of Fame, a 1997 member of the Harvard Varsity Club Hall of Fame, a 1998 inductee of the Haverford (Pa.) High School Sports Hall of Fame and 2003 class member of the Pennsylvania Lacrosse Hall of Fame.

Amy Bokker - Head Coach, Stanford University
As the winningest coach in program history, Amy Bokker enters her 11th season at the helm of the Stanford women's lacrosse program in 2019.
Bokker has led Stanford to six conference titles and seven NCAA tournament appearances in her first 10 seasons. Prior to Bokker, the program had made just one NCAA appearance in its history.
Through the 2018 season, Bokker's record is 232-155 (.599) as a Division I head coach, including a 138-53 (.723) mark on The Farm.
Prior to Stanford, Bokker took over at her alma mater, George Mason, in 1998. She made an immediate impact, guiding the Patriots to their first winning record in school history, with an 8-7 mark. During her tenure at George Mason, Bokker combined for six top-20 finishes, including a final national ranking of No. 16 in 2008 when the Patriots went 12-5 to set a single-season school record for wins.
During her 11 seasons at George Mason, Bokker compiled an 86-94 record and left as the winningest coach in the program's history. At George Mason, Bokker coached nine All-Americans, two Academic All-Americans, a Colonial Athletic Association Player of the Year, two CAA Defensive Players of the Year and a CAA Rookie of the Year. In all, Bokker coached 18 first-team all-conference players at Mason and her players totaled 48 all-conference honors.
The former Amy Umbach is a native of Phoenixville, Pa., where she was a three-sport high school star, in lacrosse, field hockey and swimming. She was a two-time All-CAA first-team choice at William and Mary, where she also played field hockey. She was also named a BRINE/IWLCA All-American her senior season.
She earned her master's degree from George Mason in exercise, fitness and health promotion in 2007.
Bokker is the sixth head coach in the 22-year history of varsity women's lacrosse at Stanford. Bokker and her husband, Scott, have a son, Chase, and a daughter, Alexis.
Colleen Smith - Assistant Coach, Yale University
Colleen Smith, an All-American defender at Princeton joined the Yale women's lacrosse staff as an assistant coach in the summer of 2016. In her first season, she helped the program continue making strides, as the Bulldogs set school records for goals, points and draw controls in a season. They also beat a ranked opponent for the first time since 2010. In her second season, the Bulldogs beat a pair of ranked opponents.
Smith was a part of three NCAA tournament appearances at Princeton, including a 16-13 upset of No. 8 Penn State in her senior season (2014). That season she was named second team All-American, first team All-Mid Atlantic region, an ECAC All-Star and unanimous first team All-Ivy League. She also earned Princeton's Connie McAllister Award and was a finalist for the Yeardley Reynolds Love Unsung Hero Award, reflecting her work ethic and leadership skills.
Smith was co-captain of the Tigers in 2014, finishing second on the team in caused turnovers with 14 and adding 17 draw controls and 13 ground balls. The team limited Ivy opponents to just 7.64 goals per game (second in the league). She also tallied her first career point that year with a goal against No. 14 Georgetown.
A Wilmette, Ill., native, Smith graduated from Loyola Academy. She majored in psychology at Princeton.