Girls Prospect Camp - Farmington, CT
Camp is LIMITED to ONLY 76 TOTAL Players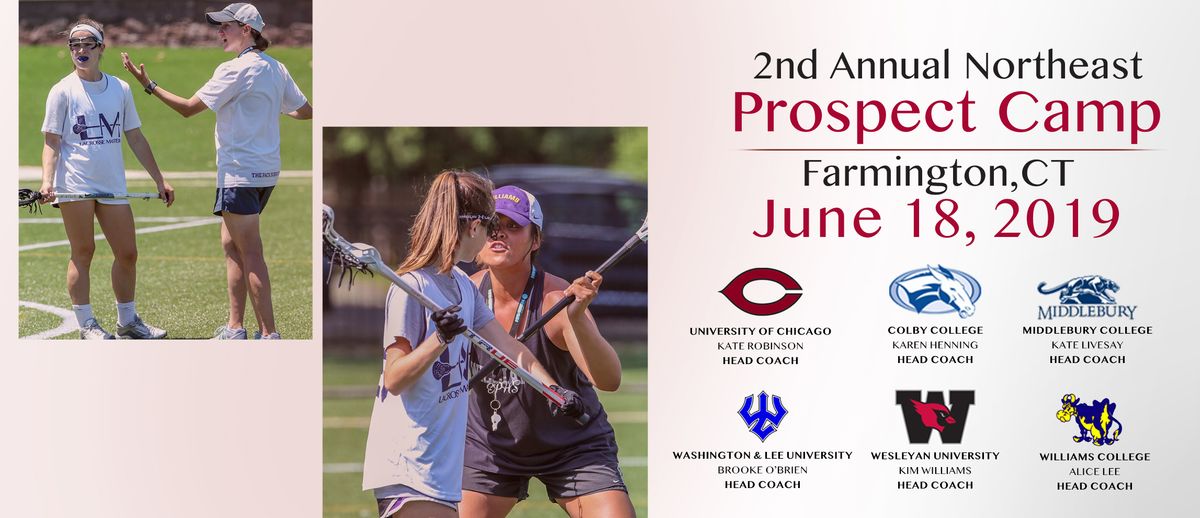 The Ultimate Lacrosse Experience
The Lacrosse Masters Prospect Camp at Miss Porter's School is unlike any camp in the country. Six HEAD coaches from some of the world's finest academic institutions will be on staff for the duration of the camp. Our camp is designed to provide every participant with the best instruction and Guaranteed Exposure to many of the nation's most well respected NCAA Division III lacrosse coaches from the world's best academic institutions.
This camp is limited to ONLY 76 TOTAL players. The make-up of our World-Class staff and the institutions they represent, in combination with the intimacy of the camp is unprecedented.
This is a MUST ATTEND camp for any player interested in playing at any of these schools. Each participate will be coached and seen by every coach on staff - GUARANTEED. You will not find this level of exposure and instruction at any camp or tournament.
Camp is open to ANY and ALL players in the 2020, 2021 and 2022 graduation years.
Kate Robinson - Head Coach, University of Chicago
UChicago women's lacrosse launched a new era with the hiring of Kate Robinson as the program's first head coach in May 2017.
UChicago's newest varsity program is set to begin competition with Robinson at the helm in spring 2019. Women's lacrosse will become the school's 20th intercollegiate sport.
Robinson began her coaching career at Whitman, which competes at the NCAA Division III level within the Northwest Conference. She was also that program's first head coach as the Blues moved from club to varsity status under her guidance. Over her three years, Whitman doubled its win totals in each subsequent season. After posting two victories in 2015 and four in 2016, Robinson's squad peaked with a 9-6 record in 2017. The Blues also took second place in the NWC with a 6-2 conference record.
The continued ascent in the win column helped Robinson earn recognition as the NWC Coach of the Year in both 2016 and 2017. Her teams produced 12 All-NWC players during her tenure, including five this past season. Sophomore Lindsay Schwartz was named the NWC Player of the Year and Mary Noyes garnered NWC Freshman of the Year accolades. Schwartz was also picked as a First Team All-Region honoree by the Intercollegiate Women's Lacrosse Coaches Association (IWLCA).

Karen Henning - Head Coach, Colby College
Karen MacCrate Henning, who won national titles as a player and coach, is in her 12th season as head coach of the women's lacrosse team in the 2018-19 academic year.
In her first nine seasons Henning has led the Mules to seven NCAA tourney appearances, including four national quarterfinal berths. She helped the Mules win the program's first New England Small College Athletic Conference (NESCAC) title in 2008, then led the Mules to another league title in 2009. The Mules also made the NESCAC title game in the 2010 and 2011 seasons. She earned the New England Pilgrim Region and NESCAC Coach of the Year honors in her first year. Colby is 120-43 in Henning's nine seasons.
Henning has achieved success throughout her lacrosse career. She was an attacker for the University of Maryland, which won national titles in 1995 and 1996 and finished unbeaten in both seasons. Henning was an NCAA Division I First Team All-American in 1995 and 1996 and finished her career with 78 goals and 76 assists for 154 points. Maryland had a 61-3 record during Henning's four seasons.

Kate Livesay - Head Coach, Middlebury College
Kate Livesay joined the Panther staff in the summer of 2014. She came to Middlebury from NESCAC foe Trinity, where she served as the head coach for eight seasons, amassing a stunning career record of 127-26 (.830). Following the retirement of legendary coach Missy Foote in the summer of 2015, Livesay took over the reigns of the program.
In her first season as the Panther head coach, Livesay produced a memorable one for her alma mater. She guided her team to a program-record 22 wins (22-1) en route to winning Middlebury's sixth women's lacrosse NCAA Championship. Livesay guided the Panthers to a 16-5 record in 2017 against one of the nation's toughest schedules, advancing to the NCAA Quarterfinals.
Livesay arrived at Trinity as a graduate assistant coach for lacrosse and field hockey in 2004-05 and was appointed the school's head women's lacrosse coach in the summer of 2006. In her first season in 2007, Trinity won 12 games and returned to the NCAA Tournament for the first time since 1998 after a 5-9 mark the previous spring.
From 2010 to 2014, Trinity compiled an astounding 94-10 record, including back-to-back 21-1 marks in 2012 and 2013. The 2012 squad captured the school's first women's NCAA Championship, while the 2013 team advanced to the NCAA title game. The Bantams won NESCAC crowns from 2011-2014, advancing to the NCAA Quarterfinals twice with three trips to the title game.
Livesay was named NESCAC Coach of the Year four times, the Intercollegiate Women's Lacrosse Coaches Association (IWLCA) Regional Coach of the Year five times, while earning IWLCA National Coach of the Year honors in 2012.
Livesay earned a bachelor's degree in American civilization at Middlebury, where she was a four-year starter in field hockey and lacrosse (All-American). She served as captain of both of those squads during her senior year, while being a member of the basketball team during her first two seasons. She earned her master's degree in history from Trinity in 2007.
As a defender for the Middlebury lacrosse team, Livesay saw her team go 64-3 over her four seasons, winning NCAA Championships with perfect seasons in 2001 and 2002. The team won all three NESCAC Championships contested in her time, advancing to the final four in 2000 and the NCAA title game in 2003.
Brooke O'Brien - Head Coach, Washington & Lee University
Brooke Diamond O'Brien is in her 13th season as the head women's lacrosse coach at Washington and Lee. She has posted a 165-51 (.764) overall record in her first 12 seasons at the helm.
O'Brien came to W&L after serving as an assistant women's lacrosse coach at Amherst College and as a graduate assistant women's soccer coach at Smith College from 2005-07.
In lacrosse, she was a two-time First Team All-America selection and two-time Kelly Award winner as the Division III National Goaltender of the Year. She was named the Intercollegiate Women's Lacrosse Coaches Association (IWLCA) Division III Scholar-Athlete of the Year and was selected the Division III Women's Lacrosse Tournament's Most Outstanding Player in leading the Lord Jeffs to the 2003 National Championship. In soccer, O'Brien was a four-time all-region selection as a goalkeeper, leading Amherst to the 2001 NESCAC Championship and an NCAA Tournament Runner-up finish. She was a two-year captain of the basketball team. Following her playing career, O'Brien was presented the Howard Hill Mossman Trophy as the senior athlete who brought the greatest honor to athletics at Amherst College during their four years.
A native of Longmeadow, Mass., and an alumnus of the Loomis Chaffee School in Windsor, Conn., O'Brien worked as a financial analyst with Goldman, Sachs & Co., in New York and London from 2003-05. She earned a master of science in exercise and sports studies from Smith College in the spring of 2007.

Kim Williams - Head Coach, Wesleyan University
Kim Williams enters her third season at the helm of the women's lacrosse program. On July 1, 2015, she became the eighth head coach for the Cardinals over their 40-year varsity history. Wiliams also serves as an adjunct assistant professor of physical education at the unversity, and holds the position of Club Sports Coordinator.
Prior to her tenure at Wesleyan, Williams served two seasons as head coach at Stockton University in New Jersey, three seasons as an assistant coach at Colby College in Waterville, Maine, and four seasons as a stellar competitor at C.W. Post University in Brookville, N.Y. Bringing the Ospreys at Stockton into their first varsity season in 2014, Williams met with immediate success behind a 16-4 victory over Notre Dame (Md.) in the team's varsity opener. Stockton posted a 10-5 record in 2014 and featured the New Jersey Athletic Conference (NJAC) Rookie of the Year. The Ospreys followed up with a 10-6 mark in 2015 while boasting the NJAC Goaltender of the Year.
Williams began her college coaching career with the Mules of Colby from 2011-13, in which the team qualified for the NCAA Division III tournament each year and amassed a brilliant 43-13 overall record, including a 22-7 mark against New England Small College Athletic Conference (NESCAC) rivals. The NESCAC is the top Division III women's lacrosse conference in the nation and had eight teams ranked among the top-20 nationally in the final 2015 Intercollegiate Women's Lacrosse Association (IWLCA) poll, led by NCAA tournament runner-up Trinity College. No other conference had more than three teams in the top-20.
After a tremendous high-school playing career at West Morris (N.J.), where she earned third-team all-state recognition, Williams played four seasons at C.W. Post, helping Post reach the NCAA Division II tournament each year with one title and three other appearances in the Final Four. She was recognized as an IWLCA All-American three times along with IWLCA Division II Defender of the Year accolades as a sophomore and Womenslacrosse.com Division II Midfielder of the Year recognition as a senior. She also earned first-team all-conference accolades three times.
In addition to her on-the-field laurels, Williams was lauded by the IWLCA, the East Coast Conference and the College Sports Information Directors Association (CoSIDA) with academic honors during her college playing days. She also earned a Woman of Achievement Award and Distinguished Graduating Student Leadership Award from C.W. Post before graduating magna cum laude in 2010 with a degree in childhood education.

Alice Lee- Head Coach, Williams College
Williams College Athletic Director Lisa Melendy announced on May 23, 2017 that Alice Lee has been named the head coach of women's lacrosse at Williams.
Lee comes to Williams after coaching six years in the New England Small College Athletic Conference (NESCAC). The last two years Lee was an assistant coach at Middlebury College and the four years before Middlebury she was an assistant coach at Amherst College.
"I am quite pleased with the hiring of Alice Lee as the next head women's lacrosse coach at Williams," stated Melendy. "She comes to us with a distinguished coaching pedigree, having been an assistant at some of the top Division III programs in the country. The committee was impressed with her evident passion for coaching and the game of lacrosse, as well as her plan for beginning the next chapter of Williams women's lacrosse. It is clear that following coaching legend Chris Mason is a big job, but I believe Alice is up to the challenge and well positioned to do so. I would like to thank the search committee for their time and thoughtful consideration during this process."
While coaching at Middlebury (2015-17) Lee helped guide the Panthers to the 2016 NESCAC and NCAA titles and was named the Intercollegiate Women's Lacrosse Association (IWLCA) Division III National Assistant Coach of the Year.
Lee played goalie collegiately at Central Connecticut State University, where she was a two-time captain, three-time all-conference selection, voted outstanding teammate, and most valuable player.
Lee graduated from Central Connecticut State University in 2009 with a B.S. in Management and a concentration in Entrepreneurship.