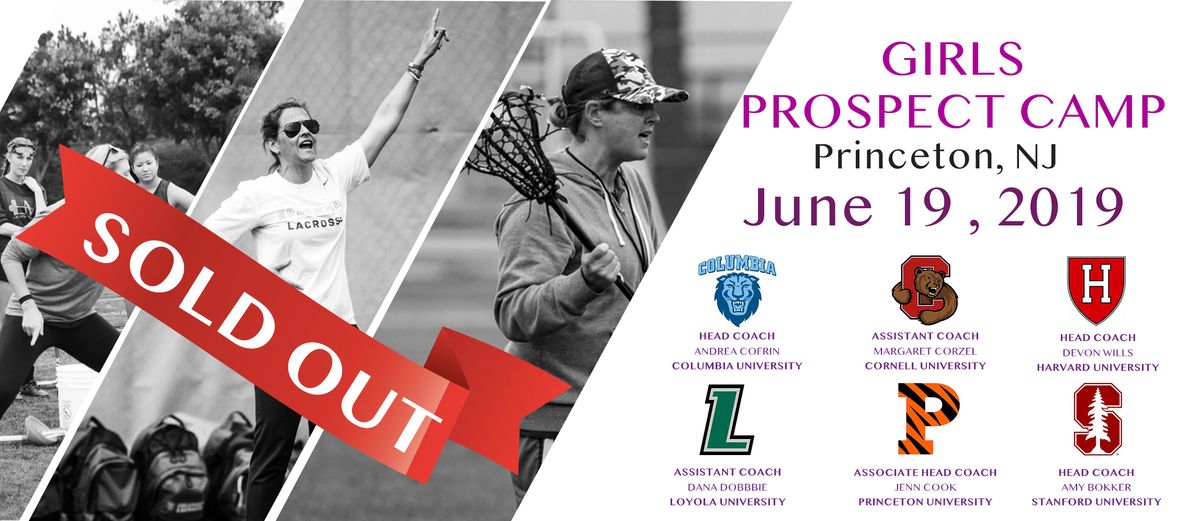 Position Availability Update
This camp is completel SOLD OUT
The Ultimate Lacrosse Experience
The Lacrosse Masters Prospect Camp at the Hun School is unlike any camp in the country. Six HEAD and Assistant coaches from some of the world's finest academic institutions will be on staff for the duration of the camp. Our camp is designed to provide every participant with the best instruction and Guaranteed Exposure to many of the nation's most well respected NCAA Division I & III lacrosse coaches from the world's best academic institutions.
This camp is limited to ONLY 76 TOTAL players. The make-up of our World-Class staff and the institutions they represent, in combination with the intimacy of the camp is unprecedented.
This is a MUST ATTEND camp for any player interested in playing at any of these schools. Each participate will be coached and seen by every coach on staff - GUARANTEED. You will not find this level of exposure and instruction at any camp or tournament.
Camp is open to ANY and ALL players in the 2021, 2022 and 2023 graduation years.

Andrea Cofrin - Head Coach, Columbia University
Andrea Cofrin was named Columbia's head women's lacrosse coach on Thursday, September 3, 2015 by Peter Pilling, Columbia's Director of Intercollegiate and Physical Education.
In just three seasons, Cofrin has elevated the Columbia lacrosse program to new heights. The Lions (6-10) 2018 campaign was highlighted by earning its first ever berth to the Ivy League Tournament. With wins over Harvard, Brown and Yale, Cofrin led Columbia to its first Ivy League season with three wins to finish fourth in the conference standings at 3-3. Columbia also lead the nation in upset wins during the year and earned a program-record five selections to the All-Ivy League team.
Cofrin was most recently an assistant coach at Yale for the 2014-15 season after leading Saint Anselm to its first NCAA Tournament appearance as the head coach in 2013-2014.
"Andrea has a wealth of experience as a player, assistant coach, club coach and head coach," Pilling said. "Andrea's energy, passion and leadership will help bring our lacrosse program to the next level. We are thrilled to have her join the Columbia Athletics family."
Cofrin is a 2003 graduate of Frostburg State, earning a B.S. in sociology.
At Frostburg State, Cofrin was a four-year starter and helped the team to a pair of ECAC Tournament appearances. She served as captain her senior year, when she was fourth on the team with 20 goals. She was also a two-year starter for the soccer team, making a pair of AMCC Tournament appearances.
Cofrin and her husband, Shawn, have one daughter, Rhiannon.
Margaret Corzel - Assistant Coach, Cornell University
Margaret Corzel joined the Cornell women's lacrosse program as an assistant coach in August 2016.
Corzel had a standout playing career at the University of North Carolina Chapel Hill, winning the 2013NCAA Division I National Championship, and spent the spring playing for the Philadelphia Force in the United Women's Lacrosse League. Corzel appeared in all nine Philadelphia Force games during the inaugural season for the club and the league.
The defender was a three-year captain for the Tar Heels and played in 83 career games, racking up 117 ground balls and causing 61 turnovers. Corzel was named to the All-ACC second-team in 2015. She helped the UNC program reach three NCAA Tournament semifinals (2011, 2013, 2015) and two finals (2013, 2015). Corzel also shares the program record for games started in a season with 22.
Corzel, at 2015 graduate, was a double major at UNC, earning bachelor degrees in business administration and psychology.
Devon Wills - Head Coach, Harvard University
One of the sport's all-time greatest players and former Ivy League standout Devon Wills was named The Carole Kleinfelder Head Coach for Harvard Women's Lacrosse, Bob Scalise, The John D. Nichols '53 Family Director of Athletics, announced in August 2018.
"We are thrilled to welcome Devon as our new head women's lacrosse coach," Scalise said. "Devon is widely known as an outstanding coach and mentor, and she returns to the Ivy League after making a tremendous impact at USC. One of the greats in the history of women's lacrosse, Devon brings a winning pedigree to Cambridge and we look forward to her continued success here at Harvard."
Wills arrives in Cambridge after a six-year coaching stint at USC, serving as associate head coach over the past three seasons, where she worked specifically with the Trojan defense and goaltenders. She was a three-time All-American goalie at Dartmouth, leading the NCAA in goals-against average and helped the Big Green advance to the NCAA championship game in 2006.
Widely regarded as one of the world's elite goalies, Wills was a goalie for the U.S. national team from 2007-17. She helped the U.S. win the 2009 FIL World Cup and was named the Player of the Match in the team's 8-7 victory over Australia in the championship game. Wills returned as a member of the U.S. squad in 2013 and 2017 that claimed record seventh and eighth world championship titles.
Wills received a bachelor's degree in sociology from Dartmouth in 2006.

Dana Dobbie - Assistant Coach, Loyola University
Dana Dobbie came to Loyola with head coach Jen Adams in 2009 and will enter her eleventh season as an assistant coach in 2019. A two-time All-American and Tewaaraton Trophy finalist, Dobbie concluded her playing career as the NCAA's all-time leader in draw controls in 2008.
Dobbie completed her collegiate playing career in 2008 as one of the top midfielders in NCAA history. At the University of Maryland, where she played for Adams, Dobbie was a two-time Atlantic Coast Conference (ACC) Player of the Year and the 2008 Intercollegiate Women's Lacrosse Coaches Association (IWLCA) Midfielder of the Year.
A two-time Tewaaraton Trophy finalist in 2007 and 2008, Dobbie set the NCAA career record for draw controls (334) during her final collegiate season. As a senior, she led Division I, and set an NCAA single-season record with 126 draw controls.
Dobbie, still playing for the Canadian National Team, competed on the bronze medal winning squad at the 2009 World Cup before leading the Canadians to a silver medal on their home turf, in Oshawa, at the 2013 games. Dobbie was named to the All-World Team after both World Cups. She was also captain of the 2003 Canadian Junior U-19 team, leading the squad in goals scored, and was a member of the 2003 World Championship team that won a bronze medal.
She graduated in May 2008 with a bachelor of arts degree in family science from Maryland.

Jenn Cook - Associate Head Coach, Princeton University
Jenn Cook was elevated to associate head coach in the summer of 2017, after serving five years as the first assistant coach.
Cook acts as the defensive coordinator and works with the center draw unit. She also has input into every phase of the game and operation, including recruiting, scouting, player development, film breakdown and program management.
In her first season at Princeton, in 2013, Cook helped guide the team to its 21st NCAA Tournament appearance. The Tigers went 10-7 including a perfect 7-0 record at home, and were the runner-up in the Ivy League with a 6-1 record, with that lone loss coming in overtime. Princeton made its third appearance in the Ivy League Tournament, falling in double overtime loss to Dartmouth, 11-10. The Tigers faced Duke in the first round of the NCAA Tournament, suffering another double overtime defeat. The game was named a Game of the Year finalist in the InsideLacrosse.com year-end awards.
Prior to joining the Tigers, Cook spent the four seasons at her alma mater North Carolina. She coached all aspects of defense and draw work, responsible for team compliance, fundraising and budget, in addition to recruiting, video and practice and game day prep. Cook helped recruit and coach the 2009 national goalie of the year and national defender of the year, in addition to having a player named a 2010 Tewaaraton finalist. In her final season, 2012, Cook's defense ranked third nationally in goals allowed per game.
Prior to re-joining the Tar Heels, Cook was an assistant coach at Drexel during the 2007-08 academic year, charged with coaching the defense.
A two-time Tewaaraton nominee, Cook earned three first-team All-America honors by Inside Lacrosse, two first-team All-America honors by IWLCA and one second-team All-America honor from the same organization. She was named first-team all-region and all-ACC three times each. A two-time team MVP, Cook was named the 2007 Inside Lacrosse Defender of the Year and holds the school career records in ground balls (200) and games played (76), as well as draw controls in a season (51). During her career, Cook and the Tar Heels made three NCAA quarterfinal tournament appearances and was ranked in the top 12 all four years, including top-five spots her junior and senior years.
A native of Broomall, Pa., Cook graduated from UNC in 2007 with a degree in exercise sports science with an emphasis in sports administration. Cook earned a masters in Sport Management from Drexel University in 2016, graduating with honors.

Amy Bokker - Head Coach, Stanford University
Since Amy Bokker joined the Cardinal for the 2009 season, she has established Stanford as one of the West's premier programs, consistently ranked among the country's Top 20.
Bokker has led Stanford to five Mountain Pacific Sports Federation Tournament titles and to six NCAA tournament appearances in eight seasons.
In 2015, Stanford finished 15-3, tying the fewest losses in school history, and led the nation in goals per game (16.00) and draw controls (16.28). The Cardinal also extended its run of conference tournament final appearances to 18.
Bokker also serves an assistant coach for the U.S. national team. In 2013, Bokker helped coach the U.S. to the 2013 FIL Women's World Cup title. After joining the staff as an assistant in 2010, Bokker helped coach the U.S. to its seventh world title as the Americans outscored opponents by a combined 127-34 over seven games in Oshawa, Ontario, Canada.
Bokker assisted the Canadian national team in the 2009 FIL World Cup in Prague, Czech Republic, where it captured the bronze medal, the first medal the country had won in 28 years.
Through the 2015 season, Bokker's record was 190-139 as a Division I head coach.
The former Amy Umbach is a native of Phoenixville, Pa., where she was a three-sport high school star, in lacrosse, field hockey and swimming. She was a two-time All-CAA first-team choice at William and Mary, where she also played field hockey. She was also named a BRINE/IWLCA All-American her senior season.
She earned her master's degree from George Mason in exercise, fitness and health promotion in 2007.
Bokker is the sixth head coach in the 21-year history of varsity women's lacrosse at Stanford. Bokker and her husband, Scott, have a son, Chase, and a daughter, Alexis.