Princeton, NJ Girls - June 19, 2019
Camp is LIMITED to ONLY 76 TOTAL Players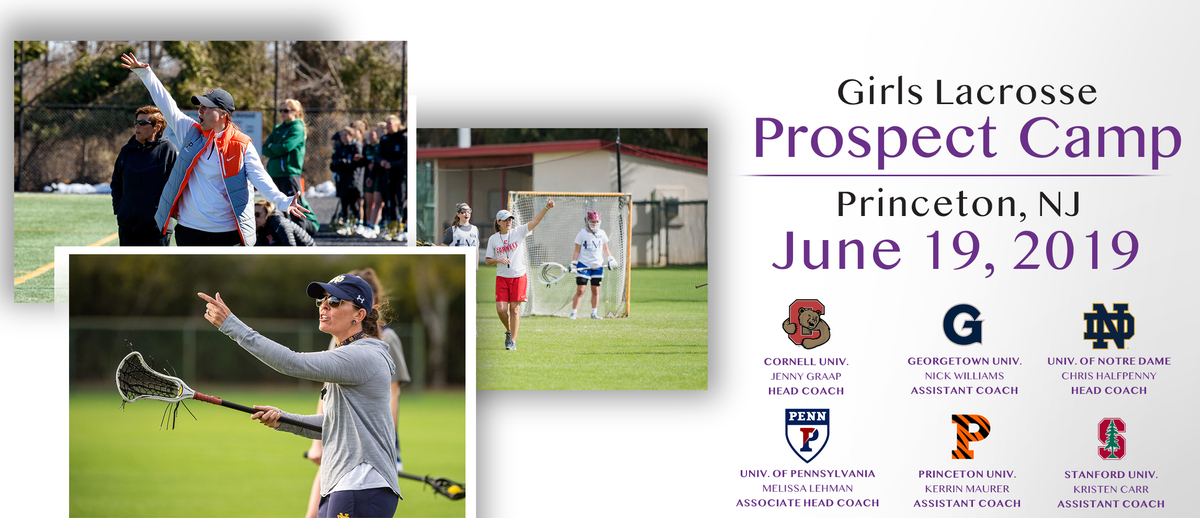 The Ultimate Lacrosse Experience
The Lacrosse Masters Prospect Camp in Princeton, NJ is unlike any camp in the country. Six HEAD and Assistant coaches from some of the world's finest academic institutions will be on staff for the duration of the camp. Our camp is designed to provide every participant with the best instruction and Guaranteed Exposure to many of the nation's most well respected NCAA Division I lacrosse coaches from the world's best academic institutions.
This camp is limited to ONLY 76 TOTAL players. The make-up of our World-Class staff and the institutions they represent, in combination with the intimacy of the camp is unprecedented.
This is a MUST ATTEND camp for any player interested in playing at any of these schools. Each participate will be coached and seen by every coach on staff - GUARANTEED. You will not find this level of exposure and instruction at any camp or tournament.
Camp is open to ANY and ALL players in the 2021, 2022 and 2023 graduation years.

Jenny Graap - Head Coach, Cornell University
Jenny Graap returned to her alma mater in 1997 with one goal in mind: to build the Cornell women's lacrosse team into a championship contender. Now entering her 22nd year at the helm in 2018-19, Graap has been honored as the the 2002 Intercollegiate Women's Lacrosse Coaches Association Coach of the Year, the 2006 Inside Lacrosse Magazine Northeast Coach of the Year, and a three-time IWLCA Northeast Coach of the Year (2002, 2006, 2016), while developing the Big Red women's lacrosse program into one of the most successful in the nation.
Graap has built an Ivy League and national title contender in her first 19 years. She has posted a 180-120 record at Cornell and a 201-164 mark in 22 years as a head coach. She reached her 200th career win in dramatic fashion, defeating Penn, 11-10, on May 8, 2016, to win the Big Red's first-ever Ivy League Tournament Championship and earn an automatic bid to the NCAA Tournament.
In her tenure at Cornell, Graap has had 85 All-Ivy selections, 49 IWLCA All-Region selections, 17 IWLCA national All-Americans, three CoSIDA Academic All-Americans, three Ivy League Players of the Year and one national player of the year finalist. Her teams have reached postseason play nine times since she returned to Cornell and have won at least 10 games eight times as well.
A native of West Chester, Pa., Graap attended East High School, where she lettered three times in basketball and played on the state runner-up field hockey team, in addition to the undefeated Chesmont lacrosse championship squad.
www.GraapLacrosse.com
Nick Williams - Assistant Coach, Georgetown University
Nick Williams is entering his sixth season on the Hilltop. Williams came to Georgetown after serving as an assistant coach at the University of Florida.
At Florida, Williams was the defensive coordinator for one season. Williams was involved in all day-to-day activities of the team including scouting, practice planning, film and working with the Florida Lacrosse Summer Camp. He was also instrumental in recruiting.
Williams served two seasons (2010-12) as an assistant coach for the Notre Dame women's lacrosse team and was instrumental with overseeing team defense and team goalkeepers, while also assisting with recruiting, scouting opponents and camps and clinics.
Prior to Notre Dame, he spent a season working with women's lacrosse at his alma mater, Towson, where he was a two-sport athlete in men's lacrosse and football. During his lone season at Towson, Williams helped the women's team to a 13-3 overall record, a first-ever at-large selection to the NCAA Tournament and a final ranking of No. 7 in the nation, the highest ranking in school history.
As a four-year member of the Tigers men's lacrosse team, Williams played 61 career games and helped Towson to a pair of CAA championships. He scored 29 goals with 22 assists in his career, including a career-best, four-goal game against Cornell in the 2005 NCAA Tournament. Williams graduated in 2008 with a bachelor's degree in sports management.
Williams completed his master's degree in sports industry management from Georgetown's School of Continuing Studies in 2017.
He resides in Washington, D.C.

Chris Halfpenny - Head Coach, University of Notre Dame
Christine Halfpenny enters her eighth season as head coach of the Notre Dame women's lacrosse program in 2019 after leading the Irish to the NCAA tournament in six of the previous seven seasons.
Halfpenny came to Notre Dame from William & Mary, where her teams achieved four straight 10-win seasons and a pair of regular-season conference titles over her final four seasons with the program.
Halfpenny's Tribe squads captured Colonial Athletic Association regular-season titles in both 2008 and 2009 - and she merited CAA coach-of-the-year honors in 2008. Her teams combined for a 20-8 record in league play (including four straight conference tournament bids) - as William & Mary reached double digits in victories each of the last four seasons (10-7 in 2011 and 2009, 10-8 in 2010, 10-9 in 2008). Those four consecutive 10-win seasons matched the best previous stretch in program history.
A four-year letter-winner in women's lacrosse at Virginia Tech, Halfpenny started on the 1999 Hokie team that won the Atlantic 10 Conference championship, finished 11-6 and achieved a program-first top-20 ranking. She received the coaches award that year and was a two-time member of the athletic director's honor roll (1998, 1999). She graduated in 1999 with a degree in health and physical education.

Melissa Lehman - Associate Head Coach, Univ. of Pennsylvania
Melissa Lehman C'08 returned to Penn in the summer of 2009 to serve as an assistant coach for her alma mater and recently finished her tenth season as an assistant coach with the Quakers.
During her time on the coaching staff, Penn has won eight Ivy League championships, claimed three Ivy League Tournament titles, and advanced to nine NCAA Tournaments including a spot in the NCAA Quarterfinals in 2016.
At Penn, Lehman works extensively with the Red and Blue's midfield and defense on schemes and strategy. During her tenure, five midfielders and two defenders have earned All-American honors -- including Meg Markham who earned back-to-back All-America selections on defense, Alex Condon who earned two All-America nods at midfield, and Erin Barry who was named All-American at midfield in 2018. In addition, midfielders and defenders have earned 22 All-Region honors.
At the League level, 29 Penn middies and defenders have earned All-Ivy honors with Alex Condon (Ivy League Midfielder of the Year, 2017), Shannon Mangini (Ivy League Midfielder of the Year, 2013), Meg Markham (Ivy League Defender of the Year, 2014 and 2015) and Natalie Stefan (Ivy League Defender of the Year, 2018) receiving the League's top honor. In addition to her work with the back end, she is an experienced source of information for Penn's offensive unit with 102 career points as a collegian.
An All-America midfielder as a player at Penn from 2005-08, Lehman captained the Quakers' 2008 team that advanced to the NCAA national final. While a student-athlete in University City, Lehman was part of the group which helped guide the Red and Blue to elite status in collegiate women's lacrosse as the Quakers won back-to-back outright Ivy championships in 2007-08 and twice advanced to the NCAA Championship Weekend. Lehman was twice named All-Ivy, earning first-team honors in 2008 and honorable mention distinction in 2007.
Kerrin Maurer - Assistant Coach, Princeton University
Kerrin Maurer was named assistant coach of Princeton women's lacrosse in July 2017.
A 2015 graduate of Duke University, Maurer has been an assistant coach at Mt. St. Mary's for the last two seasons.
A two-time All-America, Maurer graduated as the program's all-time leader in assists with 119. She ranks fifth all-time in ACC history in assists and was a three-time ACC selection. A three-time Tewaaraton Trophy nominee, Maurer graduated second in Duke history in career points with 280 and tied for fourth in career goals with 161, while finishing on a 47-game point scoring streak. Mauer helped the Blue Devils to four NCAA quarterfinal appearances, and reached the semifinals in 2015 after topping Princeton in the quarterfinals.
Kristen Carr - Assistant Coach, Stanford University
Kristen Carr joined the Stanford lacrosse coaching staff in 2016 after serving as an assistant coach at the University of Delaware for three seasons. Prior to her time at Delaware, she was a volunteer assistant at the University of North Carolina, where she was also a four-year standout for the Tar Heels.
In her three seasons at Stanford, Carr has led the Cardinals to two NCAA appearances and the inaugural Pac-12 Tournament championship in 2018.
A member of the United States Women's National Team, Carr has garnered the respect of some of the best coaches and players in the country for both her talent and her leadership.